On October 26th, we organized the very first Hyvä Hackathon in the Netherlands together with Magento agency X-com, MuliSafePay and hosting partner Hypernode.
We were pleased to welcome over 30 developers from different countries and agencies to work on the Hyvä Checkout, which was released in beta that same day.

The location was the local football stadium, contributing to the friendly competitive atmosphere :). The day was kickstarted by Willem Wigman and Vinai Kopp from Hyvä, explaining what the goal of the day was (mainly to have fun and learn) and why we decided to host this hackathon now (the Hyvä Checkout being ready for contributions, plus we were curious to get direct feedback from developers working with it). The day didn't only have to be about the Hyvä Checkout though, as it was also a chance to engage with Hyvä enthusiasts in general.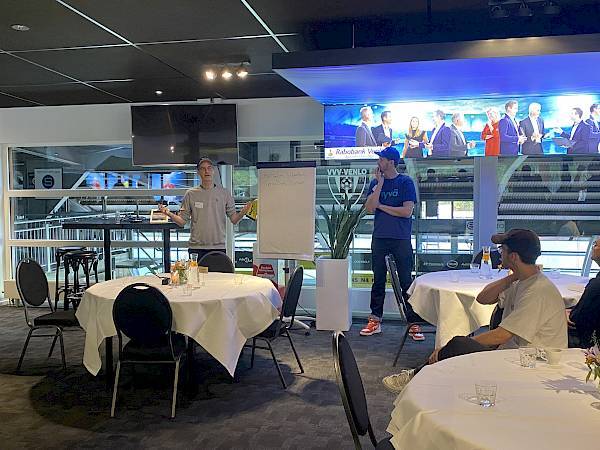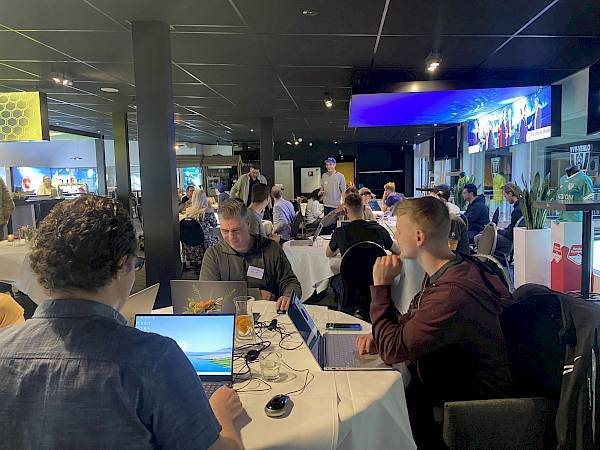 After the introduction, the participants were challenged to come up with ideas that could be addressed that day. Subsequently, during an interactive session the following topics were selected to work on:
MultiSafePay integration in the Hyvä Checkout;
Cypress tests Hyvä Checkout;
Postcode/zip checker;
Migration Tailwind CSS/Alpine JS;
Multi-player game;
Getting to know Hyvä in general.
The participants chose the topic they wanted to work on and got to work in small groups. After lunch, it was showcase time: people presented the result of their work that morning. The multi-player game became a memory game developed with Magewire, just like the Hyvä Checkout, so it could be integrated as an easter egg or 404 error page for instance.
The impact of new Tailwind and Alpine versions on custom modules was investigated by X-com developers, so they can come up with a plan to update all of their customers.
Development time in Hyvä Checkout is drastically reduced: this was proved on the day by the group that worked on the MultiSafePay integration. They built a fully functional payment integration in only a few hours!
During the day, there was plenty of room for social talk, and at the end of the day we enjoyed drinks and snacks together. We were very pleased with the enthusiasm that was displayed, the new connections that we made and the fun we had! We look forward to more hackathons this year!