On December 13th, the entire Hyvä team traveled to Madrid to attend Meet Commerce Spain: a general ecommerce event with representatives from several platforms.
We had a booth where we met new and familiar faces, and of course gave out a good amount of swag, amongst which the "Hyvä es bueno" T-shirt, made especially for this event! A true collectors' item indeed.
The day was filled with interesting talks, amongst which our own Vinai who gave a presentation about MageOS, an engaging talk from Karen Baker from ShipperHQ about the importance of community, and our founder Willem Wigman who presented our client case Ivel Valley together with our partner Andy Jones from Aware Digital. It was great to share the stage with one of our partners and talk about the real life successes that were achieved using Hyvä!
For more information, please read the Ivel Valley Showcase on our website.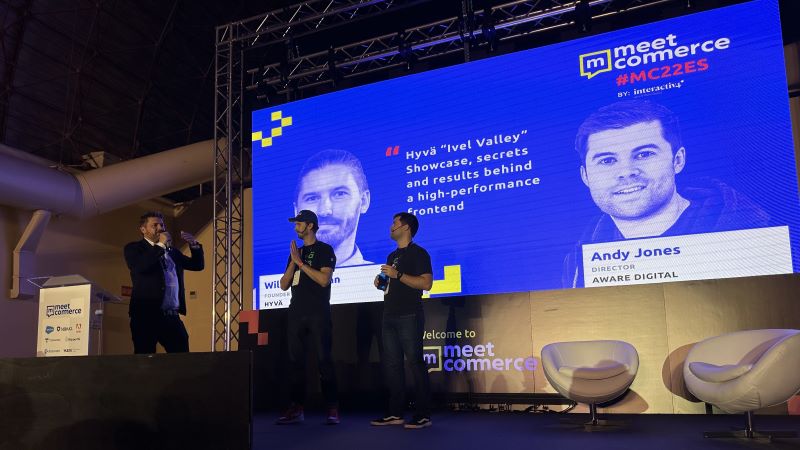 The night before the event, the traditional pre party took place in an Irish bar in Madrid (a true international event indeed!). It was great to meet so many familiar faces in real life again, and we all had a wonderful time there.
The event itself ended with an after party in a bowling alley, so this was the perfect opportunity to show our skills and competitiveness! Credits to our partner John Hughes from Youwe who turned out to be a strike master!
The day after the event Magento security specialist Sansec organized a get together in a local bar for those who didn't have enough yet. It was the perfect opportunity to reflect on the event, catch up with those you missed until now, and have some interesting discussions in a low key environment.
As this was also a team outing for us, Meet Commerce Spain turned out to be the perfect match of business and pleasure. It was great to meet some of the Spanish agencies we had been working with but never seen in person, such as Onestic, Hiberus and Cinetic.
Thanks to the integration that was built during the Hyvä Hackathon, we were able to announce a special campaign for Hyvä and MultiSafePay customers on Meet Commerce Spain.
But most importantly, we felt that true community spirit that we love and cherish so much! Thanks to Ignacio Riesco from Interactiv4 for organizing this event, and thanks to everyone who attended for the laughs, drinks and good conversations!