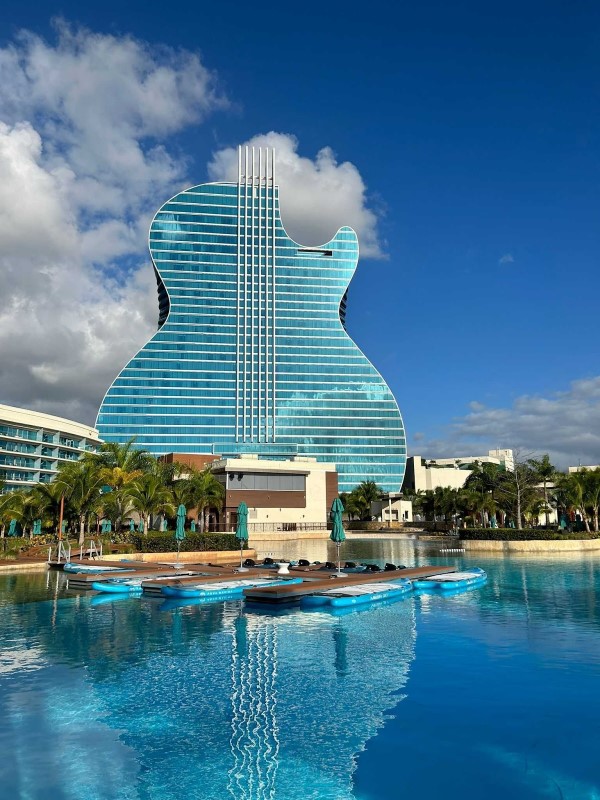 On February 15th and 16th, the first Meet Magento Florida took place at the Hard Rock Hotel in Hollywood, Florida. Of course, Hyvä was proud to sponsor and to represent with Willem Wigman and Sanne Bolkenstein, who both presented here. Read on to learn all about their experience at this electrifying event!
Inspiration all the way
As the 15th of February was mainly about the marketplace and meeting the sponsors, the real content kicked off on the 16th with organizer Ravi Mittal, CEO of Aheadworks and Rave Digital. He welcomed all attendees to his hometown and his enthusiasm was infectious: it is so cool to hear his dedication to Magento and the community, something we can totally relate to!
The inspiration only continued with a brilliant talk from Philip Jackson, about how we all want to provide that unique shopping experience, yet when you take away the headers, it's difficult to distinguish even between the biggest online retailers because people tend to copy each other, especially the successful ones. Philip challenged us to think outside the box and try something new: definitely also something we can relate to and will keep in mind for sure!
Hyvä talk of the town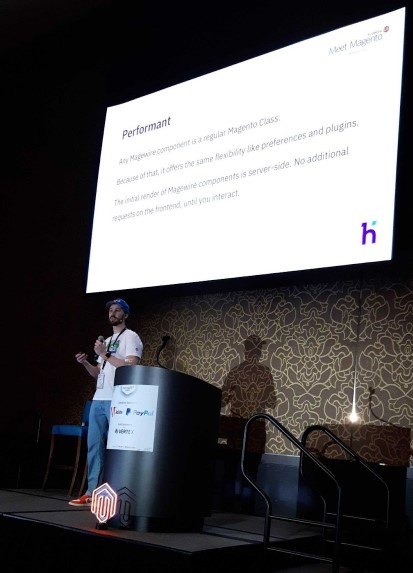 We were honored to give 2 talks at this event: Willem Wigman presented the Hyvä Checkout at the technical track, which prompted a lot of enthusiasm in the crowd. This is the biggest bottleneck in Magento development and people are so excited to see this tackled the Hyvä way! Stay tuned for early access…
Sanne Bolkenstein gave a presentation together with Arron Moss from Magento agency Zero-1 and Julia Prestia from Barr Display, a Florida based company selling equipment to retail stores. Zero-1 performed a like-for-like transition from Luma to Hyvä for Barr Display, and the results are really impressive: their organic revenue grew by 30%! Read all about this and more in the case study which will be published soon.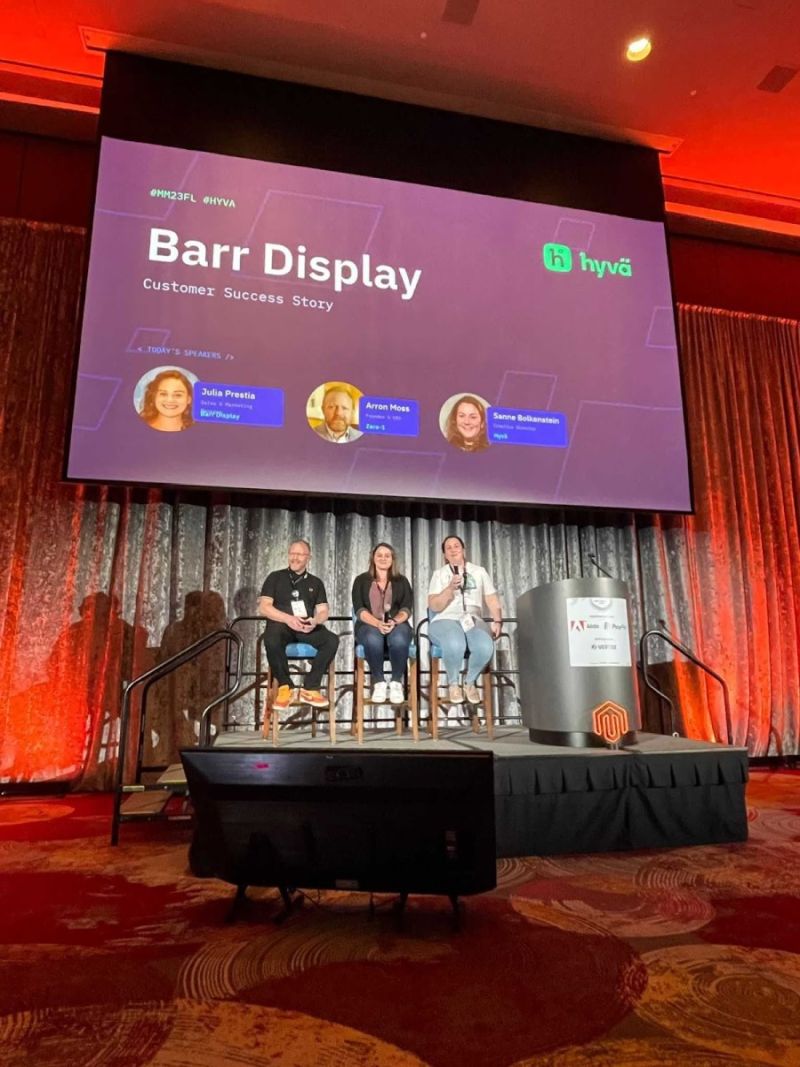 Meeting our US fans
We were happy to be able to talk to so many US based clients and partners at this event. It is really great to be able to meet people you're working with face to face, and to exchange ideas and constructive feedback. Special thanks to Robert Rand from Jetrails, who organized lunch together with his executive team, but also meetings with their clients who were eager to learn more about Hyvä!
Time for fun
Of course MM23FL wouldn't be a true Magento event if there wasn't a good afterparty. After a long day of talks and networking, it was great to wind down by the pool, enjoy a fantastic dinner and dance the night away to the rhythm of the DJ! Oh yes, Hyvä got moves!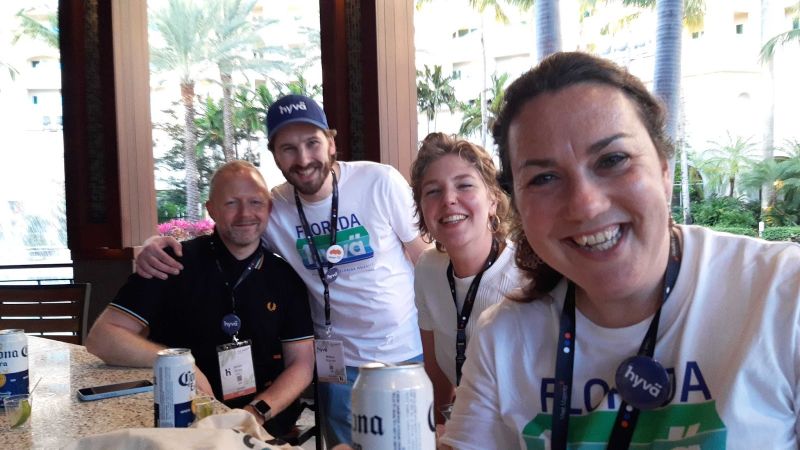 The Friday after the event, we organized a get together with Sansec, our partner for Magento security. We met up with about 20 people from the event at a bar at Miami beach, and enjoyed some beers, snacks, good conversation and laughter! As the festivities continued into the evening, the last people remaining were keen on taking a dive into the sea! This had to be memorized of course :).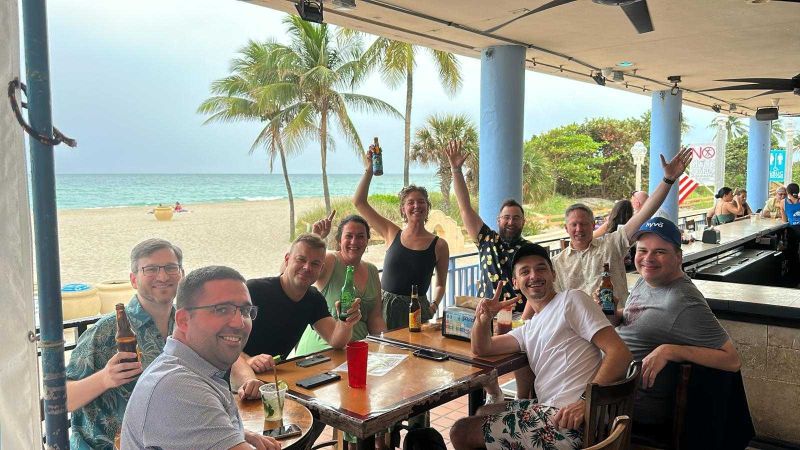 It's a wrap!
We're happily looking back at an event where we got to know our US customers and (technical) partners a lot better, learned a lot and found solid new collaboration opportunities! It is always rewarding to hear how many people talk about Hyvä and how happy they are with our products: this energizes us to do even more! Thanks to everyone who was there for making this an unforgettable event for us, we can't wait to attend the next one!