How Adopt.com increased eCommerce sales by 45% with a Hyvä website rebuild
Merchant and Magento 2 project snapshot
Adopt.com
Country: France
Industry Vertical: Beauty
Business model: Enterprise B2C Omnichannel
Distribution: 223 stores in France
Project scope and key results
New website launch with Hyvä: 1st April 2022
Project duration: 4 months
1,000 active SKUs, 50,000 inactive
+45% eCommerce sales (H2 2021 v.s. H2 2022)
+28% organic traffic
+8% conversion rate
10x improvement on page performance across the whole website
With Hyvä, development time was cut by half and the website was ready and tested to best support and convert all our integrated campaigns including TV commercials, TikTok, Instagram and TV show sponsorships.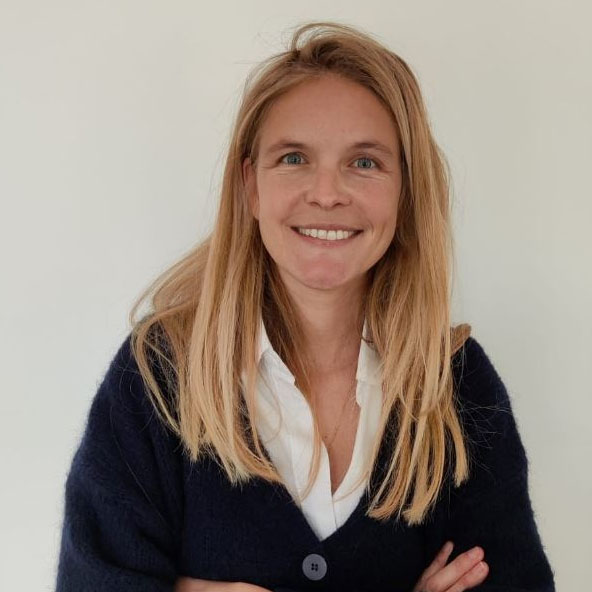 Marion Almairac
Senior Digital Manager at Adopt Parfum
Adopt Parfum, the company that started the French Fragrance revolution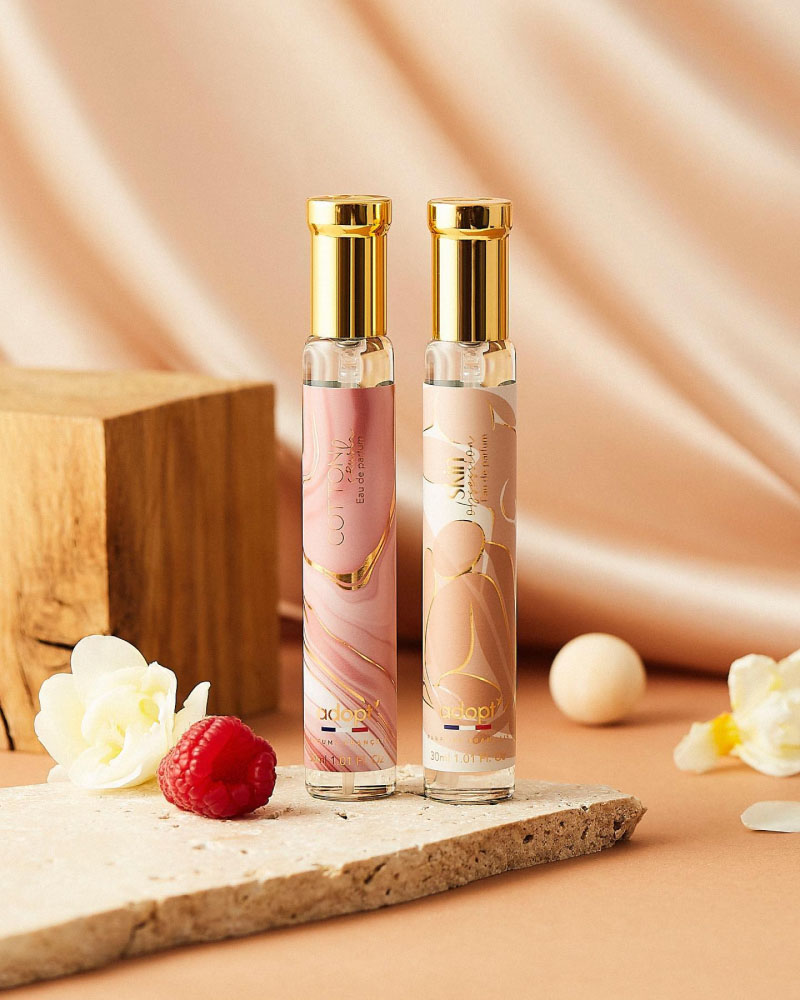 Adopt was born in 1986 under the name Réserve Naturelle, with a store in Bordeaux. 10 years later they opened 6 more stores and one franchisee. As early as 2006, the company knew how important it was to take care of the environment and encouraged consumers to bring back all the empty packaging to stores so it could be recycled. In 2007 the company launched their first eCommerce website and in 2014 it rebranded from Réserve Naturelle to Adopt.
In 2021 their Instagram account Adopt-Parfum reached 200,000 followers.
The company's product positioning is about offering affordable fragrances to all women while committing to a sustainable and responsible approach. 
Their key ingredients come from Grasse, the French capital city of Fragrance.
Products are made in France, in recycled and recyclable packaging.
30% of their electricity consumption comes from renewable energy.
A 50mL bottle is priced at €18.95, almost 5 times less than luxury brands with massive marketing and advertising budgets.
Today Adopt has over 500 employees, 223 stores in France. They sell 130 unique fragrances and launch 16 new collections each year.
What they are the most proud of is making high-quality perfume accessible to all women with products starting from €10.95 and expanding their affordable and responsible products to more categories such as makeup, hair accessories and skincare. 
The Beauty Market is growing driven by digitalization and younger demographics
According to Statista analysts, The Beauty & Personal Care market is and has always been one of the fastest-growing consumer markets. Key growth drivers include:
Cosmetics and Skin Care segments who innovate constantly with new active ingredients, new textures and new benefits (whitening, contouring, masks etc…)
Young consumers entering the market and being targeted throughout their entire lives from acne to anti-ageing.
This trend is also reinforced by social media and eCommerce, with a sharp rise of video tutorials made by beauty content creators who can make international trends go viral in a flash.
Although the Market is only predicted to grow by 2 to 3% each year, the online part of it is predicted to grow from 26% of total sales in 2022 to 36.8% in 2025, that is 10 points uplift!
Percentage of Health and Beauty revenues sold online vs offline in Europe in 2021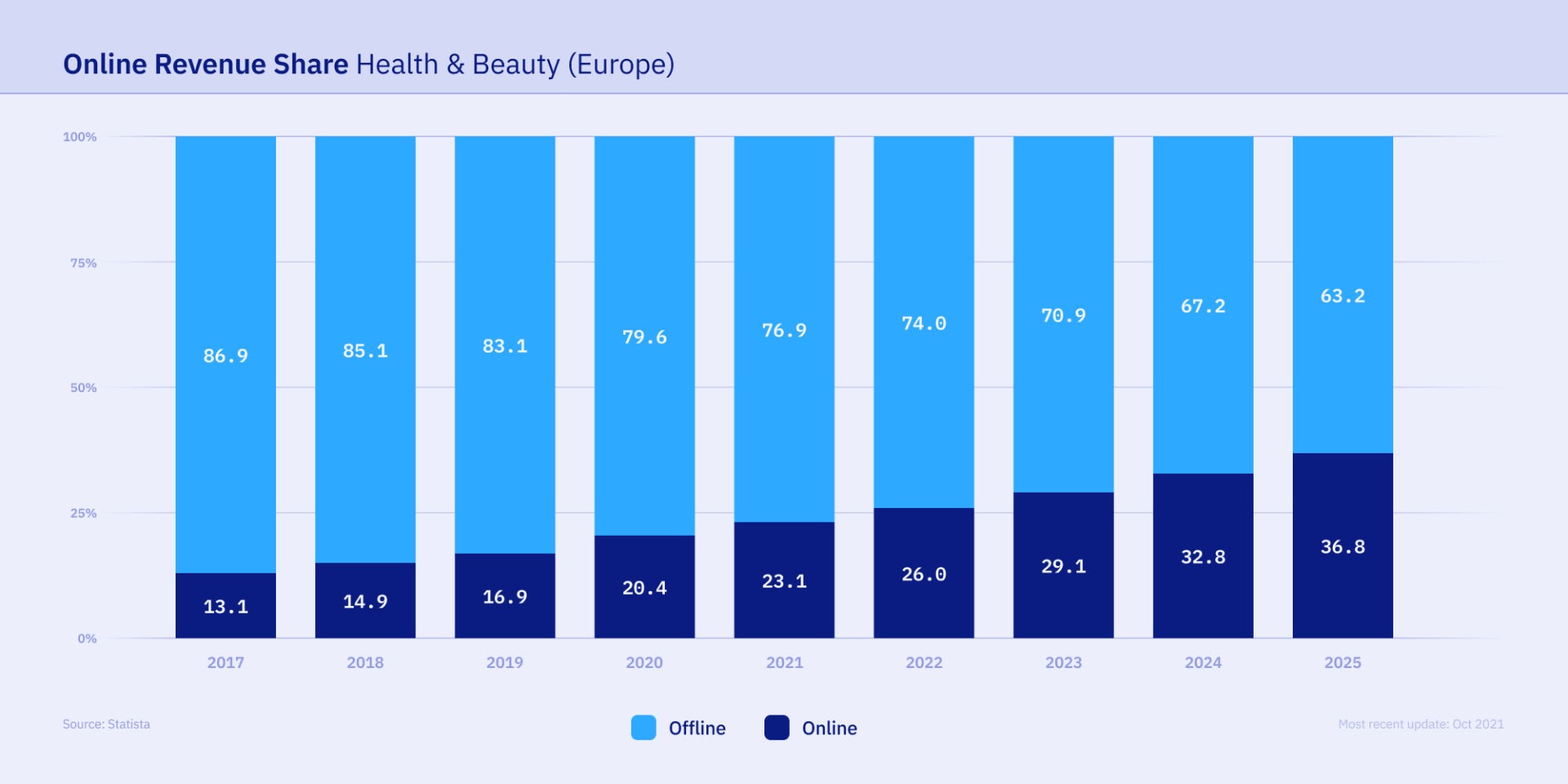 Source: Statista, October 2021
Adopt's Marketing and Digital Strategy
Today Adopt ships across all of Europe from their French website.
Their typical customer is:
Women
Aged 35 years old on average, core target audience 18 to 25 years old
Urban areas but expanding to more rural thanks to their online presence
Budget Conscious
Sensitive to Beauty
How do they promote their brand on the French market?
1. Physical Stores in city centres.
With cherry-picked locations in high foot traffic areas and appealing merchandising, it's hard for city girls not to have come across the brand.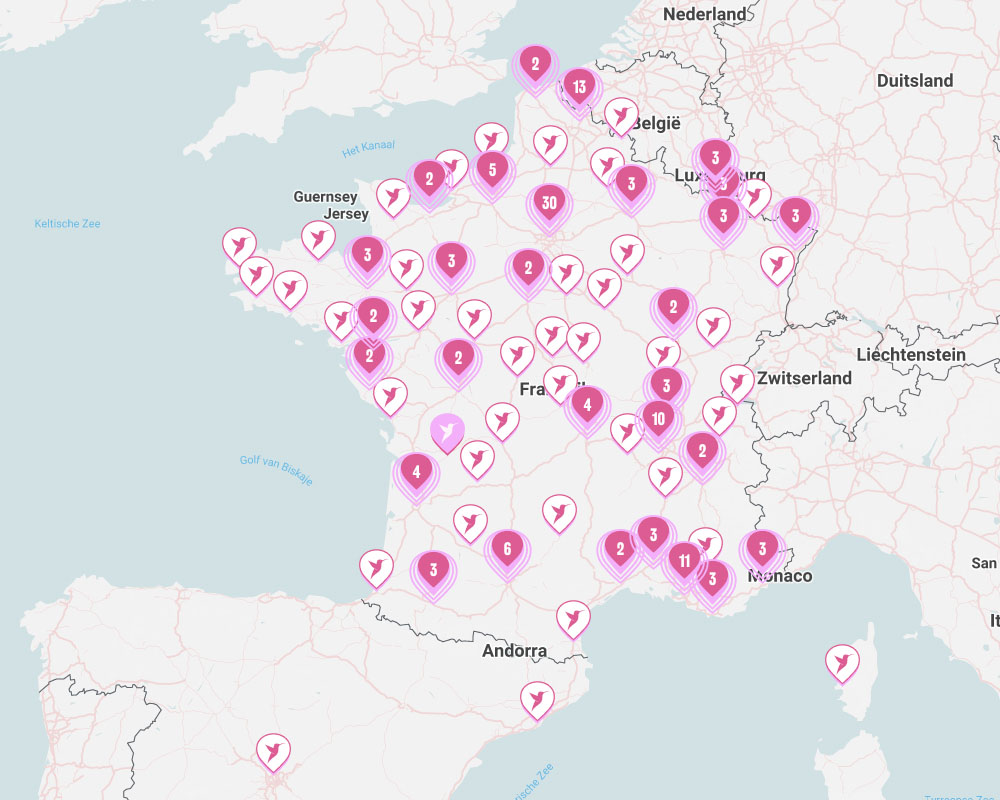 Map of Store locations
2. Social media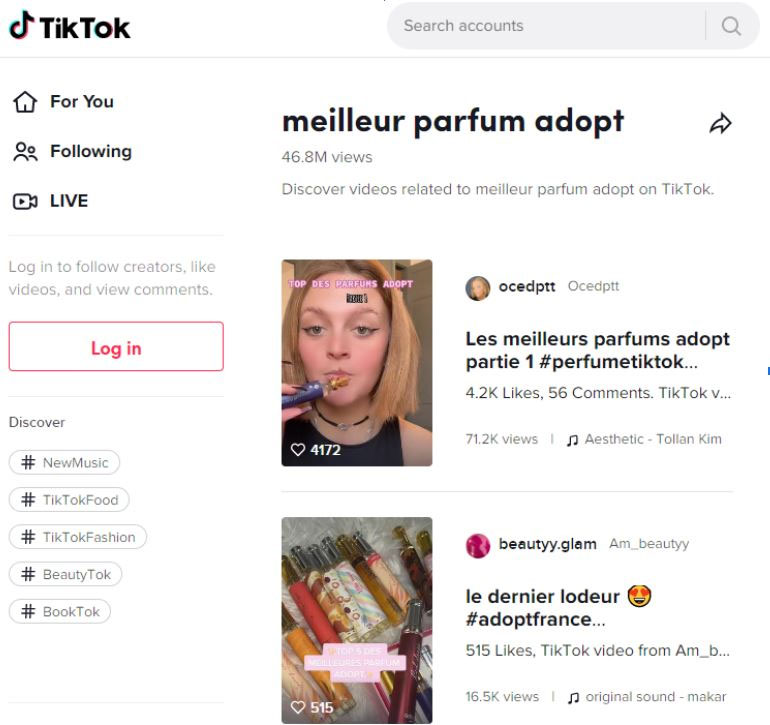 47 Million views on TikTok for the search phrase " best Adopt fragrance". How? Why?
The company's strategy is to offer hundreds of scents to choose from based on consumer moods, occasions, and styles. When you have so many options, one big question is: which one to choose? In fashion and beauty, many women don't trust their own taste. Styles are dedicated by the media and now by influencers.
If you look at their own TikTok account, a video that drove 4M views is the one announcing the Sales in-store.
Adopt Parfum follower count:
3. TV campaign
On 1st June 2022, after having sold over 6.5M perfumes in the previous 12 months and raised €26M (1), the brand launch a wide video campaign to position its difference around the "French Fragrance Revolution" statement, showing diversity, fun and carelessness that disrupt the traditional style of more serious and arty Perfume commercials.
The 45-second spot was broadcast on M6 free-to-air French TV channel live and replay as well as on social media with shorter formats.
4. Miss France Sponsorship
In France, the national beauty pageant contest broadcast on free-to-air TV is a big moment at the end of the year, in December amid all the Christmas shows and festivities. Although an older demographic would watch it live, it gets a lot of media coverage in the weeks leading to it and in the week following the announcement of the big winner.
Indeed, in most of her interviews, published in all the French tabloids and news websites, the 2023 Miss France Indira Ampiot declared that one of her favourite fragrances is one from Adopt which cost less than €10.
To celebrate the event, Adopt offered additional discounts and an exclusive promo code for their website for a limited time only.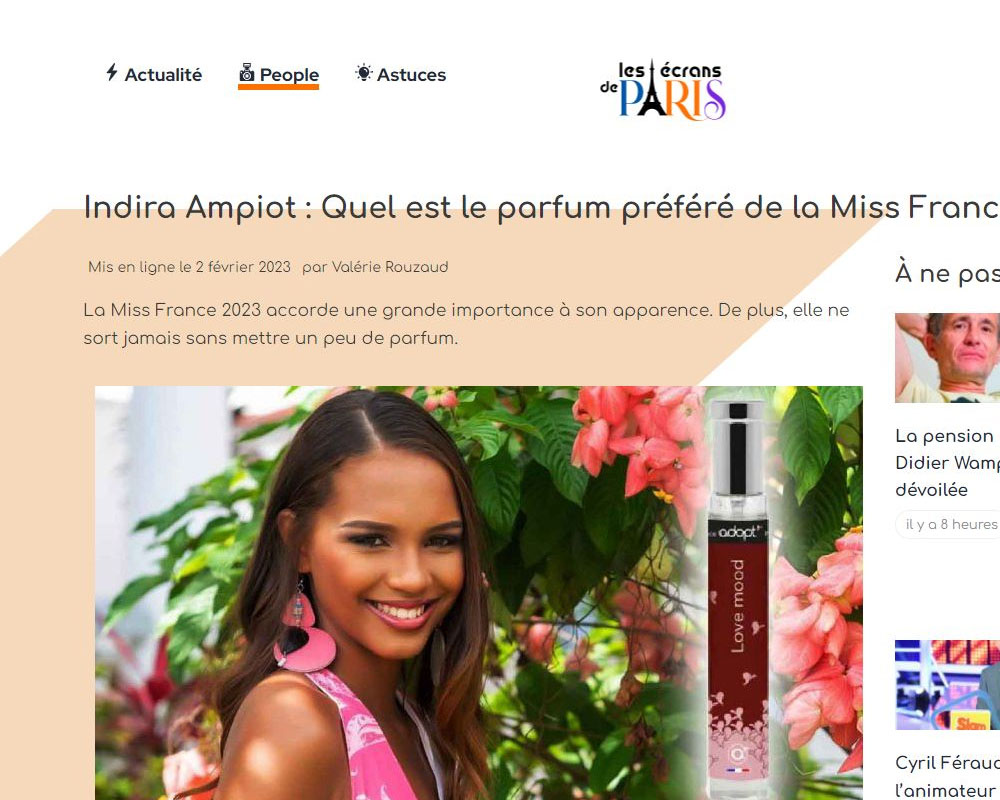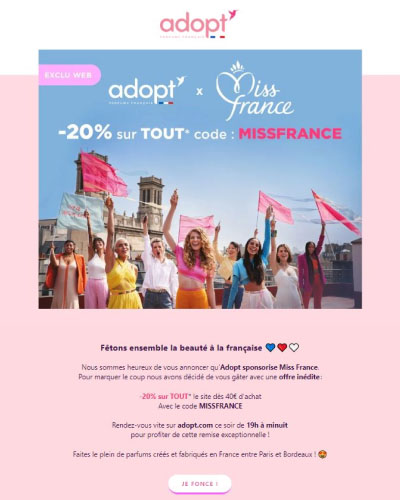 Newsletter announcement
When you look at the activities described below, you know they can make or break based on how well you manage the load on your website. 
What worse nightmare than investing millions in TV exposure when your website crashes and cannot take orders?
Read on to see how Adopt's IT team managed brilliantly to turn their marketing plans into a whooping 45% uplift in online sales, year over year.
Tech stack: why did Adopt.com migrate to Hyvä?
The eCommerce Technical Challenge
When the PH2M French Magento agency was asked to come and rescue Adopt's Adobe Commerce project, the situation was bad. The merchant had been sold a clunky website by a big Solution Integrator and after two years, they realized that the front end was not performant but the whole system was hard and expensive to maintain.
After an audit, the conclusion was delivered harshly, in a no-bullshit approach that is typical of Frederic Martinez, PH2M CEO. " You have to fully revamp your website or I won't bother taking on your account" said Frederic. Backed by his reputation, experience and expertise with Magento on the French market for 13 years and the fact that Adopt's CIO knew and appreciated Frederic's approach from having worked with him on previous projects, it worked.
The Adobe Commerce/ Magento 2 front-end options
PH2M current solutions of choice are either Hyvä or Front Commerce.
The latter is a Headless, PWA solution developed in France. What it does is that it takes a bit longer to load the first page but then, navigation to all the other pages is instant. The front end is separated from the back end so the design can be fully custom, pixel-perfect and ridiculously good-looking. 
However, it needs a lot more development resources and this type of approach costs a lot more. Front-Commerce's current version works well for high-end brands that have bigger budgets and are so attractive that they don't need to compete to be on top of the Search Engine Result Page. That being said, Front-Commerce is actively working on resolving some of those issues in future releases.
Hyvä, on the other hand, is perfect for Retail type of brands that offer thousands of SKUs, collections, categories etc… as the solutions:
Allows every single page to load very fast real
Drives a real SEO boost for all the different site pages to get more traffic to the website
Offers a superior experience on mobile (over 80% of Adopt's traffic) that reduces bounce rate, pages abandonment and frustrations linked to a bad Internet connection
Offers a superior experience that boosts online sales conversion, especially on impulse purchase and highly substitutable type of products.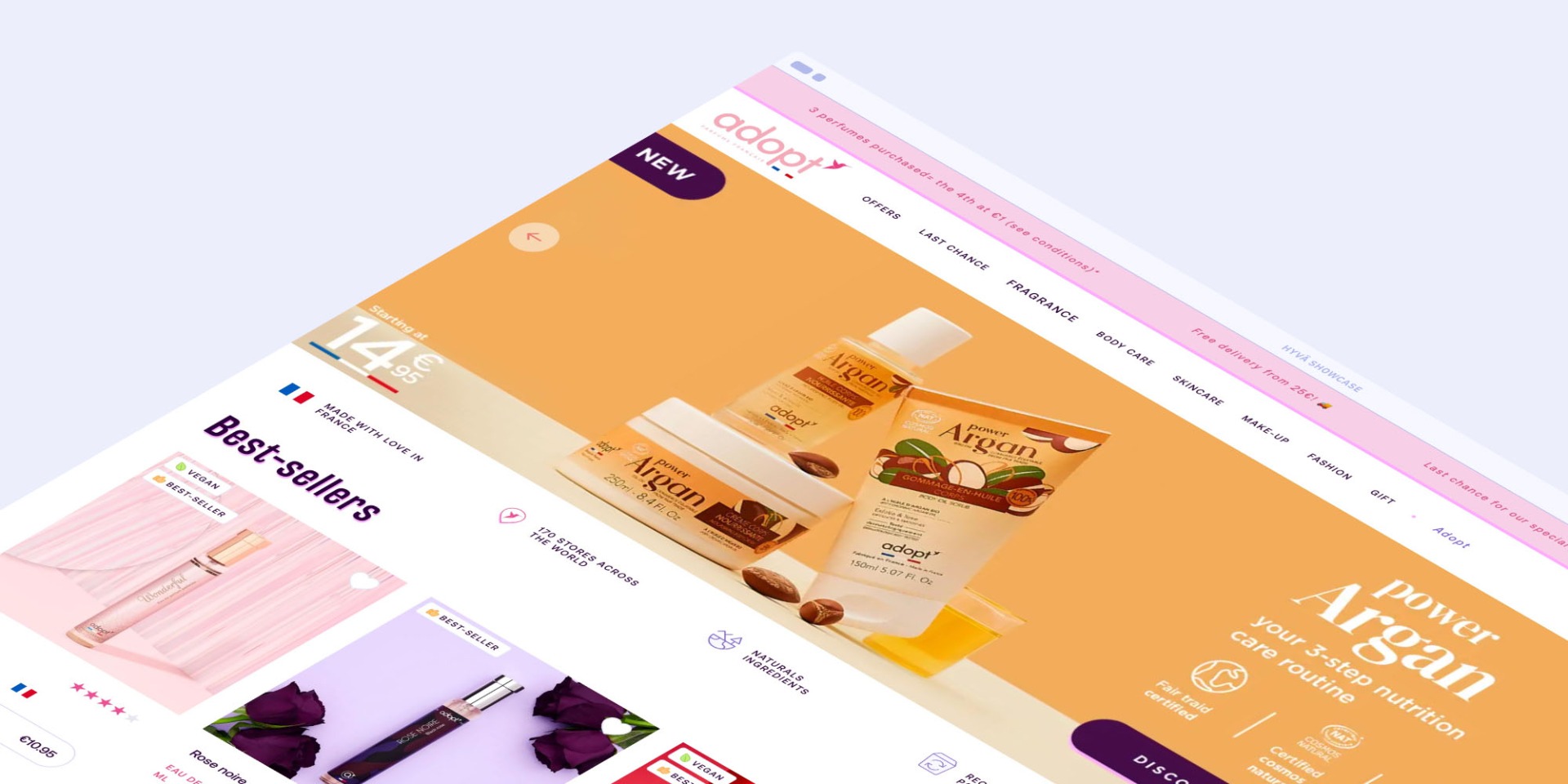 The Hyvä website rebuild scope and timing
It only took 4 months to migrate Adopt from their base Adobe Commerce theme (Luma) to Hyvä including:
150 design elements (headers, menus, category pages, promo pop up etc…) on desktop and that many on Mobile!
A full style guide to help create all the new elements on the website more efficiently while adhering to the brand identity guidelines and eCommerce design best practices
2,000 active SKUs at any point in time and 50,000 inactive due to the 16 collection launches per year
4 full-time resources: two frontend developers, one backend developer and a lead developer
Timewise, PH2M and the Adopt team agree to say it would have taken twice as much time if they had chosen any other solution than Hyvä. That means that by starting at the beginning of the calendar year, they would have been a bit tight to launch and fully test and further optimize before the big holiday season and promotional activities.
Results driven by the migration of Adopt.com to Hyvä
Website performance improved 10-fold
If you are familiar with Hyvä, you will expect this article to show improvement on Google Lighthouse or Core Web Vital scores.
The best practice is to have those scores between 90 and 100 so Google get your website ranked higher in their search results pages.
Here is what Adopt experienced, before and after Hyvä. (2) 
Homepage: × 666% and reached 100 score

Category page: × 550% on performance

Product Page: × 1200% 

eCommerce sales increased by 45%
Overall Company sales grew by 37% in 2022 vs 2021. The volume of e-commerce sales increased by 45% when comparing H2 2021 vs. H2 2022.
This is not solely attributed to Hyvä, but what Hyvä did is to:
Allow big marketing campaigns activation to fully come to fruition online as the website could easily be found online, could load fast, serve consumers well, drive conversion and turn eyeballs into actual orders
Deliver a step change as early as 1st April 2022 and reap the benefits of 8 full months of marketing activities including summer sales, festival seasons in addition to the Black Friday and Christmas peak
Save on 4 more months of development with 4 full-time resources (over 2,800 man-hours)
Our results show that Hyva was the best choice for us. The customer journey is improved and the performance of the site is much better.
Marion Almeirac
-
Senior Digital Manager at Adopt Parfum
Maud Guénerais
-
eCommerce Project Manager
In fact, if we look at pure eCommerce KPIs we see the below uplift if we look at July to Dec 2022 vs 2021:
Website traffic: (during the period with no TV ads): + 28% traffic
Website conversion rate: +8%
eCommerce sales: +45%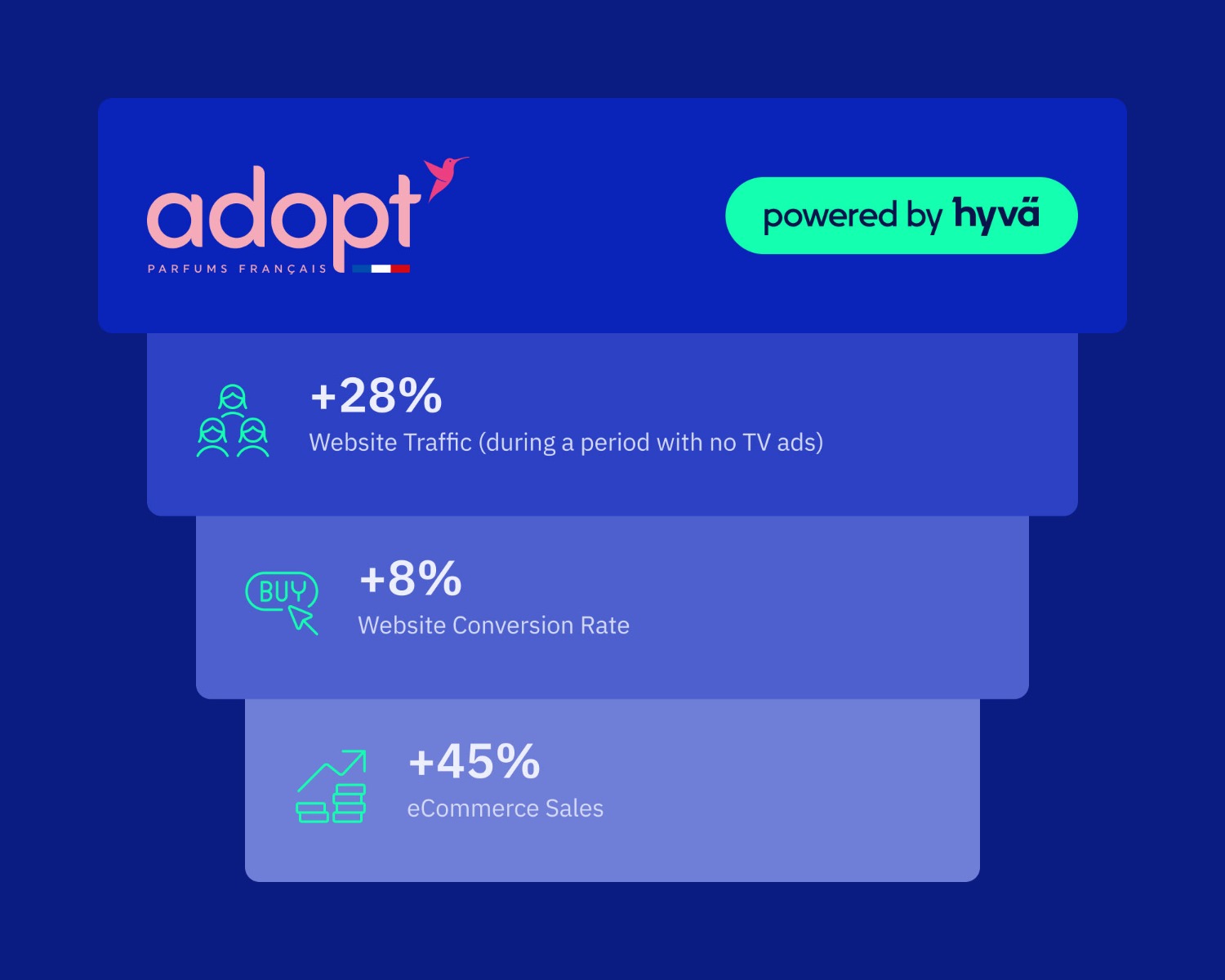 What's next? Let's conquer the world
Adopt Parfum Success story does not stop here.
The big hairy ambitious goal is to expand internationally, starting with Europe. It's not just about website localization but products need to follow regional requirements too. 
In 2022 Adopt successfully opened two stores in Spain: Barcelona and Madrid. The plan is to launch the Click and Collect functionality and link it to 170 points of sales locations.
As we publish this article, it's been made public that Adopt is acquiring a factory from Pierre Fabre for €15 million with the view to increase its production capacity from 11 to 50 million bottles by 2028.
Words of advice
Agency point of view:
If you inherit a project on Luma that is too old, don't think twice and jump straight to Hyvä as it's very cost-effective. Plus users feel the difference in terms of the website experience, the website performance is dramatically improved and it all naturally translates into a better online sales conversion rate.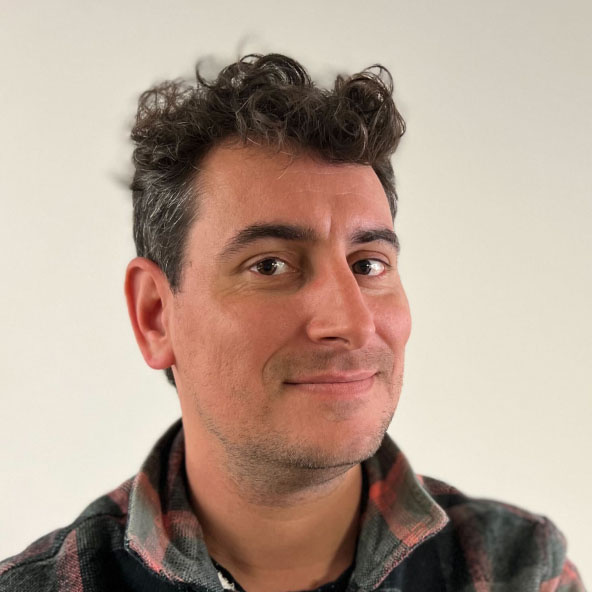 Frederic Martinez
CEO and Founder at PH2M, Toulouse, France
The agency specialised on Adobe Commerce and Magento Open Source; founded in 2009 based in Toulouse, France. Their client base comprises well-established French brands such as Devialet, Adopt, and Pullin but also Volcom, Nestlé, LVMH or L'Oréal. Their agile methodology ensures the delivery of quality projects that meet their client's needs within the set timeline. Their small-sized company and no-bullshit approach allow them to pick and choose the right clients, those who fully trust their business acumen and technical expertise.
(1) Source: La Réclame
(2) On desktop and excluding the impact of Google Tag Manager and other Marketing tracking tools on page load