How Citizen Watch UK improved their online revenue by 141% with Hyvä
Merchant and Adobe Commerce project snapshot
CitizenWatch.co.uk
Country: United Kingdom
Industry Vertical: Luxury watches and jewellery
Business model: B2C, Omnichannel with flagship stores, physical shops in shops and online
Hyvä project scope and key results
6099 SKUs
New website with Hyvä launch date: 24/08/2022
Traffic: +65% new users
Conversion rates are up 43%
Revenue increased by 141%
Transaction volume + 161%
Hyva Themes' sleek and modern designs gave Citizen Watch's website a fresh and professional look that resonated with its target audience. This resulted in a significant increase in website traffic and customer engagement. In addition to its attractive design, the website was also optimized for speed and mobile responsiveness. This was crucial, as a large portion of Citizen Watch's customers were shopping on their mobile devices. We now understand why our agency Foundation Commerce recommended it in the first place
Mark F.
IT Manager Citizen Watch
Citizen Watch company, innovating since 1930
History and brand philosophy
Citizen Watch is a Japanese company that produces watches and other electronic products. It was founded in 1930 by Japanese and Swiss investors who took over the Shokosha Watch Research Institute (founded in 1918) and some facilities of the assembly plant opened in Yokohama in 1912 by the Swiss watchmaker Rodolphe Schmid.
The company's philosophy is to make watches that are an integral part of people's lives. Some of its innovations include the world's first multi-band atomic timekeeping watch, the Eco-Drive technology that converts light into energy, and the Super Titanium material that is five times harder than stainless steel.
Distribution channels and special collections
Citizen Watch Co., Ltd. had net sales of ¥281.4 billion (US$2.41 billion) in fiscal year 2021 (April 2021 to March 2022), according to Statista.. It is the parent company of American watch company Bulova and also produces calculators and other electronic products. Citizen Watch has a global network of stores and dealers in over 130 countries worldwide.
In the UK, some of the retailers that carry Citizen watches are John Lewis, H.Samuel and F Hinds. Citizen Watch started selling online in the UK in 2016.
Some of the featured collections of Citizen watches in the UK include Disney, Marvel, Star Wars, Avatar, Promaster, Series 8, and Red Arrows, the world-renowned aerobatic display team and ambassadors of the Royal Airforce.
As for how the brand drives traffic to their UK website, it's a combination of Organic, Paid, Social and the power of the brand with customers coming direct
The Watch Market and Dynamics
The watch market size and key players
According to Mordor Intelligence, the watch market is projected to register a CAGR of 5.02% over the forecast period (2023-2028) and reach a market size of US$96.31 billion by 2027.
The market is highly competitive but more fragmented than concentrated in the hands of a few conglomerates. Key players include Rolex, Fossil Group Inc. (Diesel, Armani, Michael Kors, Kate Spade), The Swatch Group (Tissot, Omega, Rado, Longines), Citizen Watch Co. Ltd, Seiko Holdings Corporation, Casio, Titan Company Limited (Tata group, India), and Apple Inc.
In the luxury segment you can also see many couture brands advertising alongside jewellery brands belonging to Chanel, Hermes, LVMH (Dior, Fred, Tag Heuer, Hublot) or the Richmond group (Cartier, IWV, Jaeger-LeCoultre).
Top trends shaping the watch market
Innovation: smartwatches and wearable technology
The rise of smartwatches and wearable technology that offer various features and functions, such as health and fitness tracking, notifications, GPS, and voice control. Smartwatches are expected to grow at a CAGR of 14.5% from 2020 to 2027 and reach a market size of US$96.31 billion by 2027.
Climate consciousness and sustainability
The preference for sustainable and eco-friendly watches that use renewable energy sources, such as solar power or kinetic energy, or recycled materials, such as plastic or wood. For example, Citizen Watch has developed the Eco-Drive technology that converts light into energy and eliminates the need for battery replacement.
Increase share of voice and distribution from online channels
Online sales accounted for 12% of the total watch market revenue in 2019 and is projected to expand at the fastest CAGR of more than 5.05% from 2022 to 2030 according to Grandview research.
Consumers use online channels to purchase premium products on account of favorable value-added services including cash-on-delivery, easy return option, safe transactions, and integrated and centralized customer services. Key players are adopting online retail schemes to cut operational costs and increase their profits.
The influence of social media and celebrities on consumer behavior and preferences, as well as the emergence of new styles and designs that cater to different tastes and occasions. For example, some of the popular trends in 2021 include minimalist watches, colorful dials, skeleton watches, and vintage-inspired watches.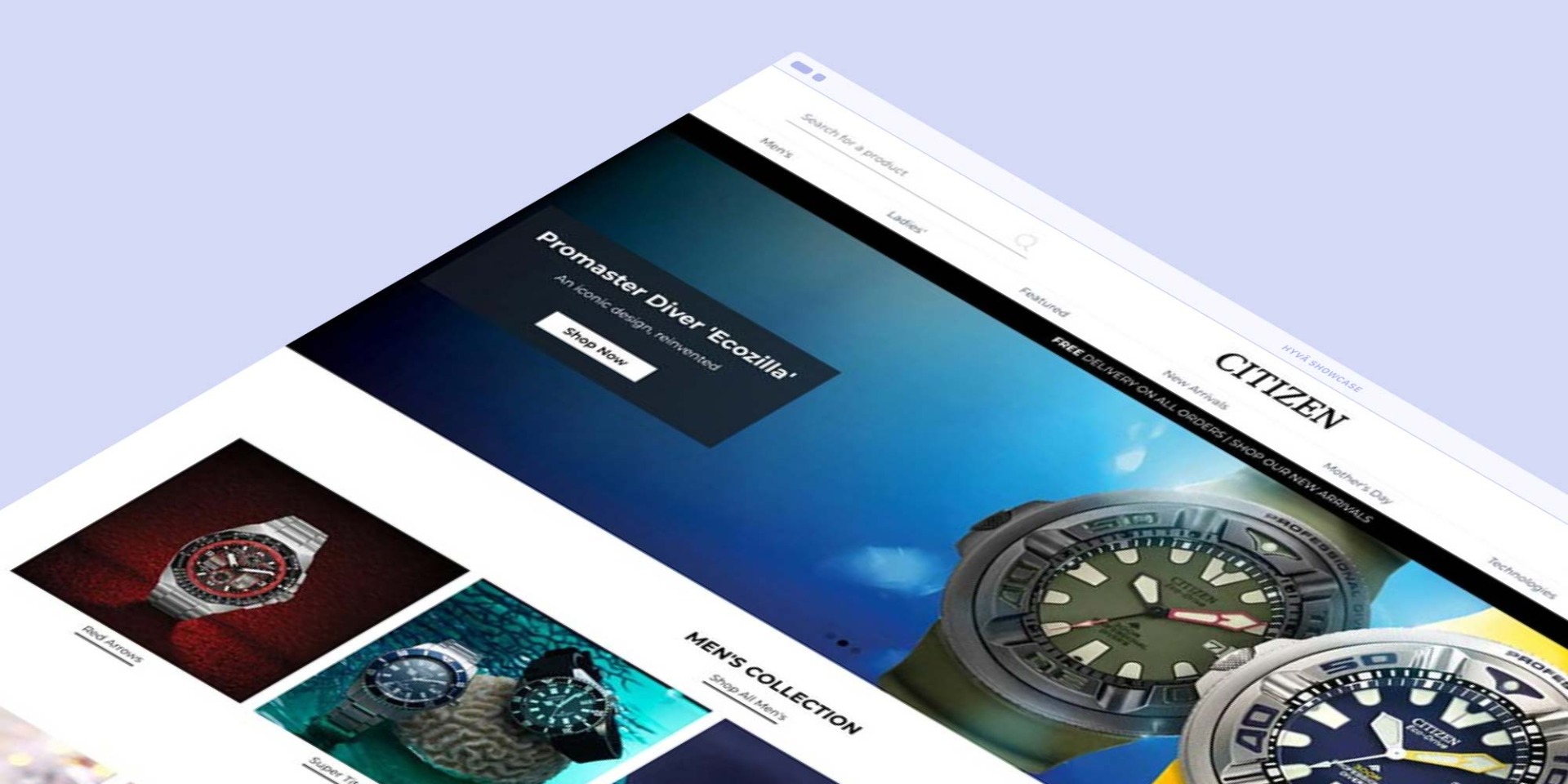 Citizen Watch UK eCommerce challenges
Citizen was entering the next phase of their growth with a strong need to attract new customers, and were struggling to find an Adobe Commerce Partner that could deliver the eCommerce solutions that would allow them to do so.
After finding Foundation Commerce on Google (the power of SEO!), the audit revealed key areas of improvement around:
Website speed and performance (the site did not pass Google's Core Web Vitals)
Website usability
Mobile experience
Careful approach and time efficient implementation
Having been burnt in the past, Citizen needed a solid process that would lead to well thought through recommendations.
As such, the agency lined up their six steps methodology to discover all the customer insights, business goals, objectives and technical requirements, while building trust along the way.
Diligent comparison of various eCommerce platform capabilities was carried out and a strong case was built for choosing Hyvä part of the new and more comprehensive tech stack.
Indeed, the website was already on Adobe Commerce when they came to us. Other agencies were pushing Headless and PWA but we felt that due to the brand being so early on in their ecommerce journey that Hyvä Themes would be the ideal as the cost to implement was a lot lower.
Foundation Commerce delivered a brand new frontend in just three months with their internal UX designers coming up with a completely new look and feel and their Magento 2 experts bring it to life.
Results of Hyvä implementation on Citizen Watch UK website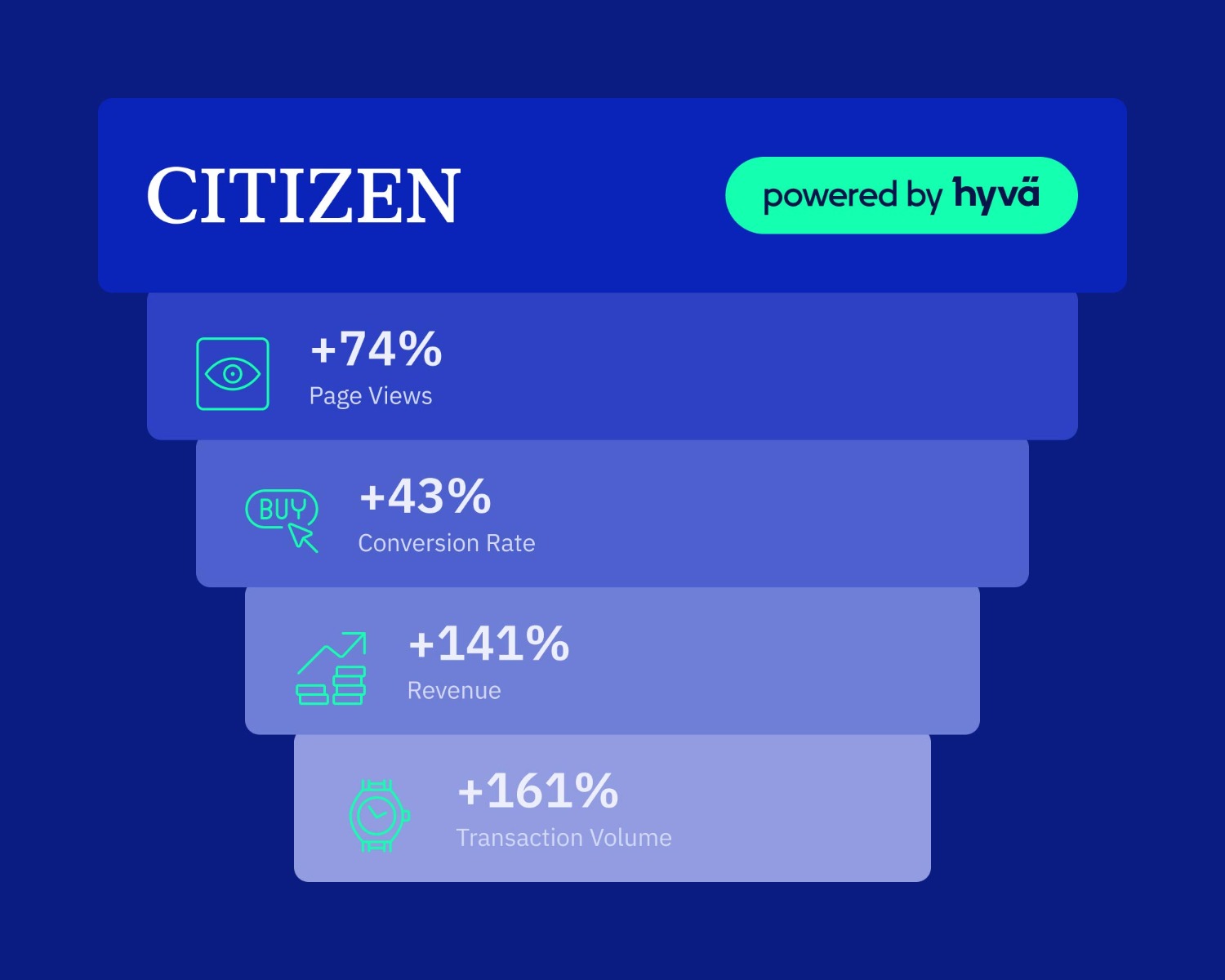 The new website with Hyvä frontend went live on 24/08/2022.
The following metrics are comparing 1st Sept 2022 - 24 May 2023 vs the same period the previous year.
Traffic: +65% new users
Page views + 74%
Conversion rates are up 43%
Revenue increased by 141%
Transaction volume + 161%
Given the result, it was a no brainer to do the same with Bulowa, another brand of the group.
We re-used a lot of the functionality and components that we developed for Citizen. The idea was to do much of the same rather than trying to reinvent the wheel.
Large enterprise businesses don't need to invest large sums of money in headless implementations - like PWA - to grow their revenue. The bigger agencies are finally waking up and realizing this. We've known it for years!
A safer and much more cost effective approach is to go with Hyvä which proves time and time again so successful at fixing user experience, page speed and website performance issues allowing Magento merchants to provide amazing online user experiences that keep their customers coming back for more.
Whether you're an SMB, Mid Market or larger enterprise brand, Hyvä boosts revenue, reduces complexity, and reduces the cost of ownership associated with the Magento platform.
That's why at Foundation Commerce we continue to recommend Hyvä and their amazing suite of products to Magento merchants both big and small. We strongly believe that Hyvä is the future for the Magento and Adobe Commerce platforms and the growing number of positive case studies backs up this claim.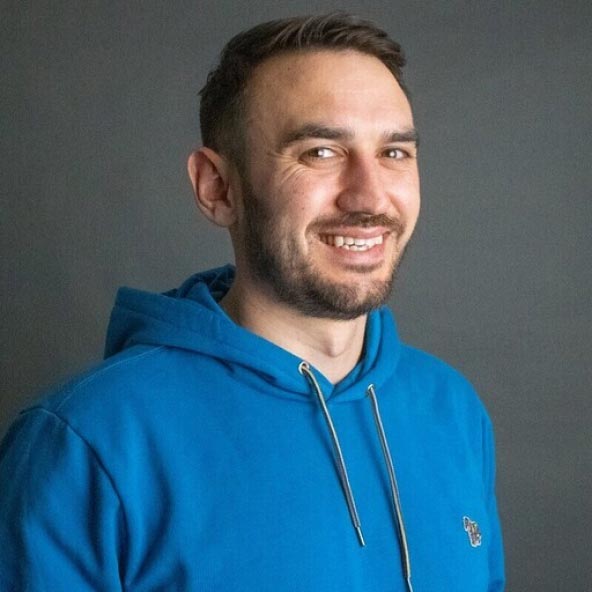 Ryan Copeland
Director and Founder at Foundation Commerce
We are an official partner of Hyvä and the 1st UK agency to launch a Hyvä Themes project. We saw its potential instantly and have been backing their game changing technology since day one.
We're based in the UK and pride ourselves on being a specialist Magento / Adobe Commerce development agency. We only offer 1 service and we do it very well!
We work with online brands, both big and small, to come on board as an extension of their existing team, building long term partnerships with merchants to drive year-on-year revenue growth.
Our clients include a mix of Magento Open Source and Adobe Commerce websites such as KES Lighting, Flybubble, King Apparel, Boori and The Open Group.
Sources: