How Megadental gained an extra €1 million in just 3 months with Hyvä
Merchant and Magento 2 project snapshot
Megadental.fr
Country: France
Industry Vertical: Health: supplier for Dentists
Business model: B2B direct channels like mail order, phone, eCommerce
Annual online revenue: approx €30M
Part of a USD 10Bn corporation listed on the NASDAQ
Project scope and key results
New website launch with Hyvä: August 2022
35,000 SKUs
Incremental € 1 million gained between Sept to Dec 2021 and Sept to Dec 2022
+ 13% revenue
+33% transactions
Since the first store launched and is working well, we plan to roll out new websites. All our builds will be based on Hyvä frontend as it has now become our standard.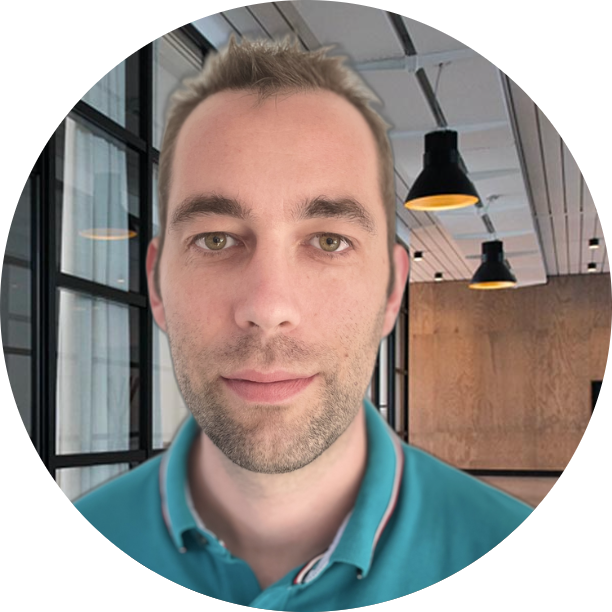 Julien Anquetil
Software development Manager at Megadental
Megadental is developing its eCommerce capabilities in house and we had the pleasure to sit down with Julien Anquetil, Software Development Manager at Megadental's parent company to talk about his experience with Hyvä.
Merchant background
Company history, location, size
Megadental was founded in 1991 in France to supply consumables to dentists in France. The company started with a call center and launched their website in 2000. Mega Dental is also known to have the "biggest" (printed) catalog in the French market (more than 1000 pages!).
Today Megadental is part of a larger US corporation listed on the NASDAQ making $10Bn revenue per year.
How did the business idea come about?
The founder was part of the medical industry, and wanted to help and centralize all consumable & equipment needs for French Dentists. At this time there was nobody on the French market who could deliver everywhere in France and got all major brands in his catalog as the business was very fragmented regionally and product wise.
What is your niche/ key differentiator?
Range: Mega Dental has more than 35,000 items available
Price: we aim at offering the lowest and best price
Speed: we deliver in 24h: every order submitted before 16h00 will be delivered the next morning before 13h00 to our customer!
Service: Mega Dental also provides to each customer a dedicated account manager to help them in their daily business needs.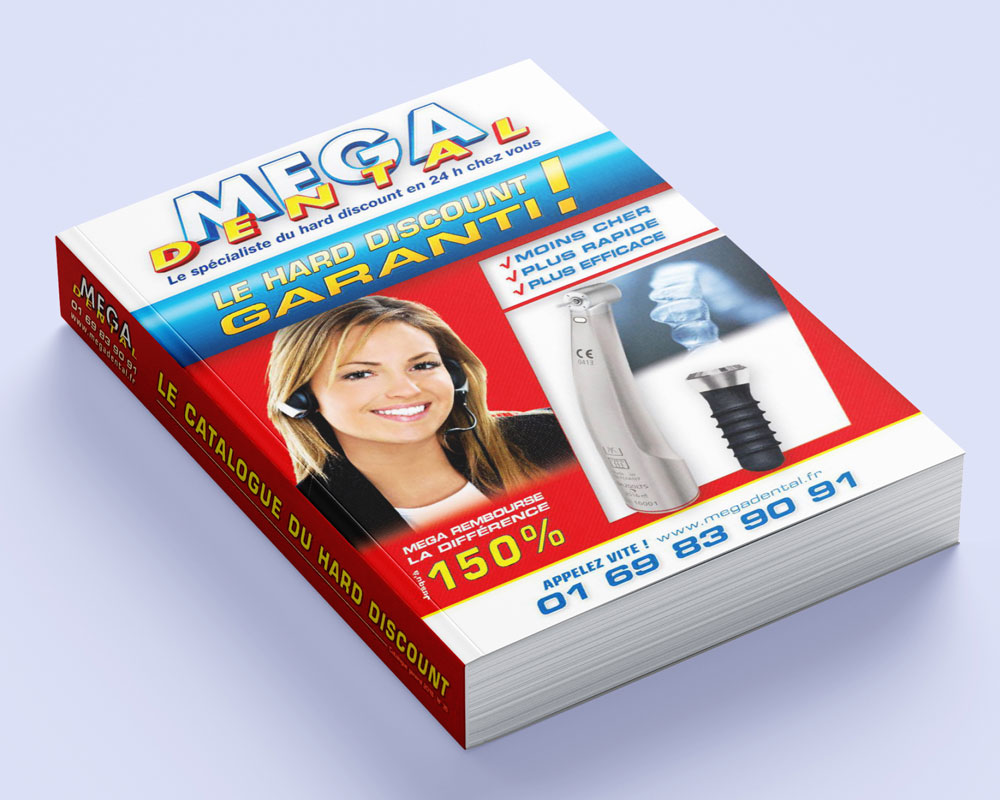 What are you the most proud of so far?
We've started with an online catalog (and order came by email) a few years ago and now we're integrated with our SI. E-commerce is a real thing now in the company and a trusted channel by our customers.
Market and Digital strategy
What key market are you operating in? Who is the typical buyer? How big is the market?
In France there are about 40K dentists. Our business is B2B and we have several types of customers. It can be the Dentist himself who submits the order, or the dental assistant. We even have some grouped dental practices nowadays with multiple dentists in the same location.
What are the market trends, challenges and dynamics?
The trend for our customers is now to optimize their time and to be efficients. So we need to have a quick responding website, a good / fast search engine with accurate results to save time for our customers.
What are your top marketing levers/ how do you bring traffic to your website?
We use SEO as a top source of traffic so that's why focusing on website performance and choosing Hyvä made total sense.
Since the launch of our new website on Hyvä Themes in August 2022 we already saw massive improvements. We're not 100% done (who is ?) but the basics are here and the traffic grows every month.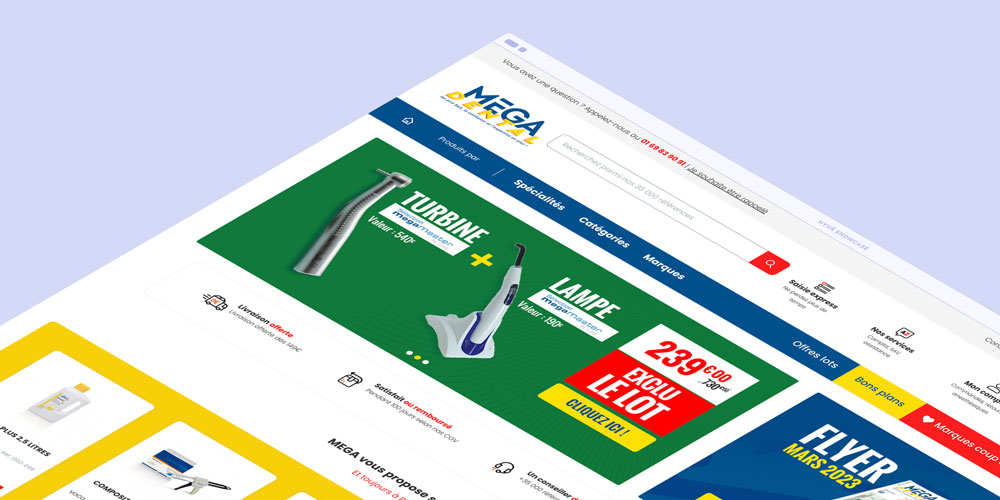 Hyvä implementation
Who did you involve in the decision process and project implementation?
The whole company was involved as this project was a new milestone in our web project plan, so the  Marketing Team, IT team, Support Team… everyone worked together on the same goal, delivering the best website to our customer with the most accurate data, fast loading time and "bug free" as maximum.
How did you make your decision around your tech stack?
We've got some experience on Magento since we ran the platform for a few years. We integrate Magento with our PIM System (Akeneo) and our ERP. Hyvä was introduced in the redesign of the website as it came with good feedback from the community and made by great people.
How did you get buyin internally?
As the technical lead from IT the choice was very easy to get also from the business point of view. Just a quick demo of the official demo & performance makes their eyes full of hope !
What were the results?
Page loading time halved from 5 sec to 2.3 sec
The loading time of the pages is a lot better. The Hyvä theme was live on August 2022 and according to Google Analytics, the average page loading time was as follows:
5 sec in July 2022
3 sec in August 2022
2.3 sec in September 2022
Even if we still get some optimizations to do, it's quicker than the previous one and we try to educate teams to "best practice" on image size, GTM tag….

Revenue + 13% and transaction + 33% uplift on an already very high base!
What is worth mentioning is that 2020 and 2021 were exceptional years for us because of the COVID-19 pandemic. We were among the few companies who still had masks, gloves, gowns in stock and we didn't increase our prices. So imagine the volume of orders we got. We even started selling to industrials like Nestlé with order values of €600,000!
Nevertheless, if we track revenue between September and December 2022 vs 2021, we can see a 13% increase, accounting for almost  1 million euro in the 3 months following our Hyvä implementation.
Although our AOV dropped 11%, our transaction volume over compensated it with an increase of 33% in that same period of time.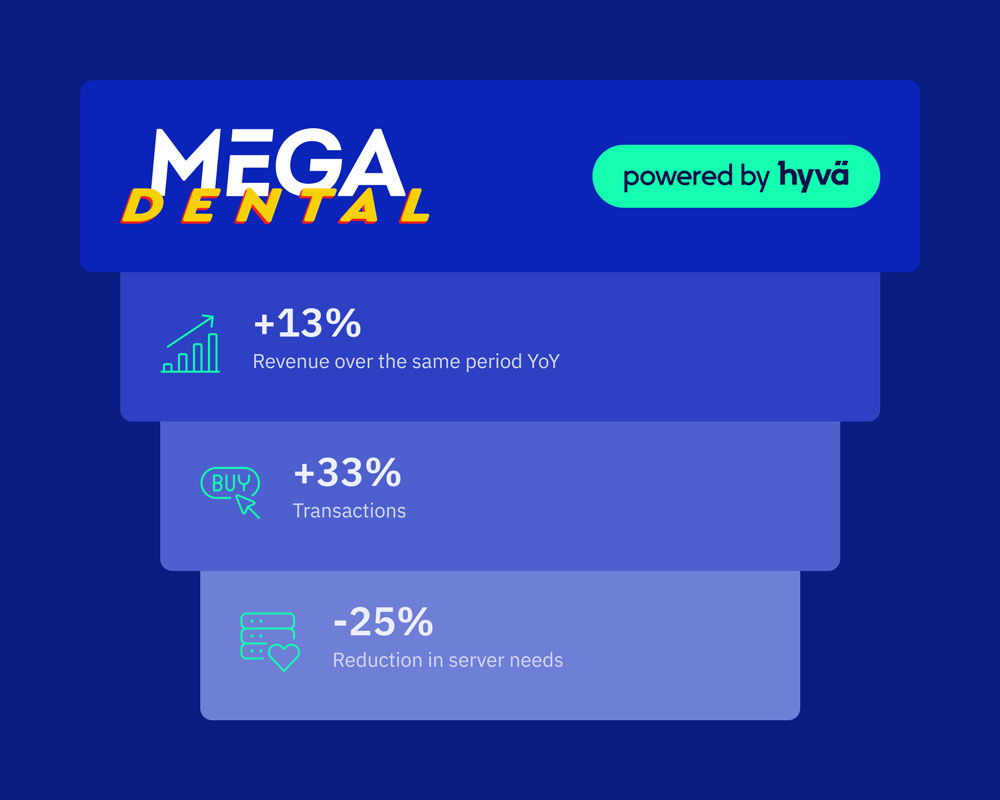 25% decrease in server needs
As mentioned earlier, SEO is our key traffic driver and improving our website performance gave it a great boost. The good thing is that the needed server resources didn't increase at the same pace because we save resources since we're on the Hyvä frontend! We even ended up reducing our server needs by 25% while increasing our website traffic and performance!
What were the key learnings in the process?
Investing in Developers time in the beginning to save on the long run
From a developer perspective it's much easier to have some JS use in the same phtml file, without having to deal with requirejs mixins and other knockout stuff.
Back end integration with Akeneo and our ERP was easy.
The project took a bit longer than expected, 8 month instead of 4 for many reasons: we had to get to know the agency who helped us, both parties had to discover, learn the new technology and train in house teams, but going forward, we will reap more benefits:
30% time saved by using Hyvä vs Luma
No need for external resources, we can handle it all internally
Savings on application management
Successful pilot to be rolled out at scale
Since the first store launched and is working well, we plan to roll out new websites, again based on Hyvä frontend as it became "our standard".
We are very confident in the technology and were also happy to help Magento agencies pitch Hyvä implementation to their big industrial clients and prospects.

Interested in more details around the Hyvä implementation? Read this article by Blackbird agency: MEGA Dental - Hyvä et développement sur-mesure.