How Livim increased sales by 147% with a Hyvä rebuild and bespoke furniture configurator
Merchant and Magento 2 project snapshot
Livim.de
Country: Germany
Family company founded in 1899
Industry Vertical: Home and Garden, Furniture
Business model: B2C
Positioning: affordable made-to-order pieces of furniture
Online since 2016 with three storefronts
Project scope and key results
New website launch with Hyvä: December 2022 in just 5 months
Number of SKUs: 27,500
eCommerce sales growth before vs after Hyvä +147% between August to November 2022 and Dec 2022 to Mar 2023
+ 46% organic traffic
+54% conversion rate
Hyvä helped us to fix a lot of problems with our frontend and reduce technical debt in our shop system. We were able to increase the performance of our store and improve the customer experience a lot.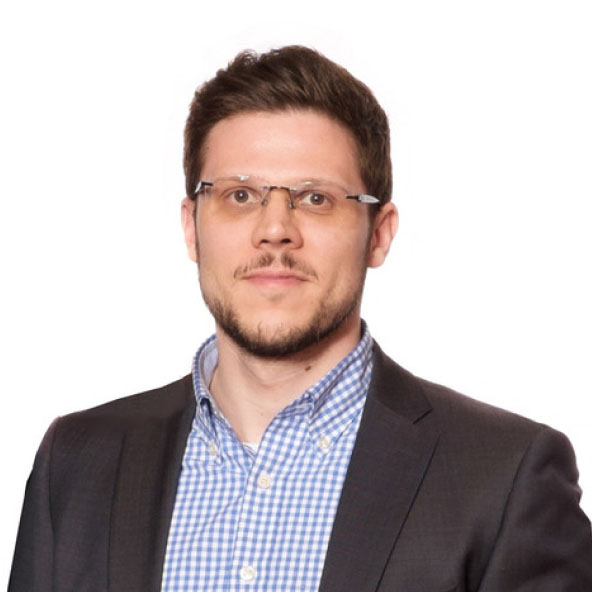 Lorenz Wedler
Prokurist Livim GmbH
Livim.de: online retailer of made-to-measure affordable furniture
Livim.de is a German B2C website that sells furniture and home decor items that follow the latest trend while being affordable. They offer a great range of brands and configuration options, all with free shipping within Germany. Products are then manufactured on demand by one of their suppliers and shipped directly to consumers.
Shoppers can quickly browse product categories per room or brand and use filters to sort our relevant items per price, colour, material, style, and supplier. Then for each product type, additional filters are offered for example "number of drawers" when looking at shelves or bedding options for sofas.
Market: Home and Garden eCommerce in Germany
Germany is the 2nd largest eCommerce market in Europe and Home and Garden has been growing by approx 10% before the COVID-19 pandemic. Between 2019 and 2021 the market grew twice as fast each year, but dropped to below 2020 level in 2022 as a result of the Ukraine war.
Furniture Revenue in Europe in billion USD actuals until 2022 and projection until 2027.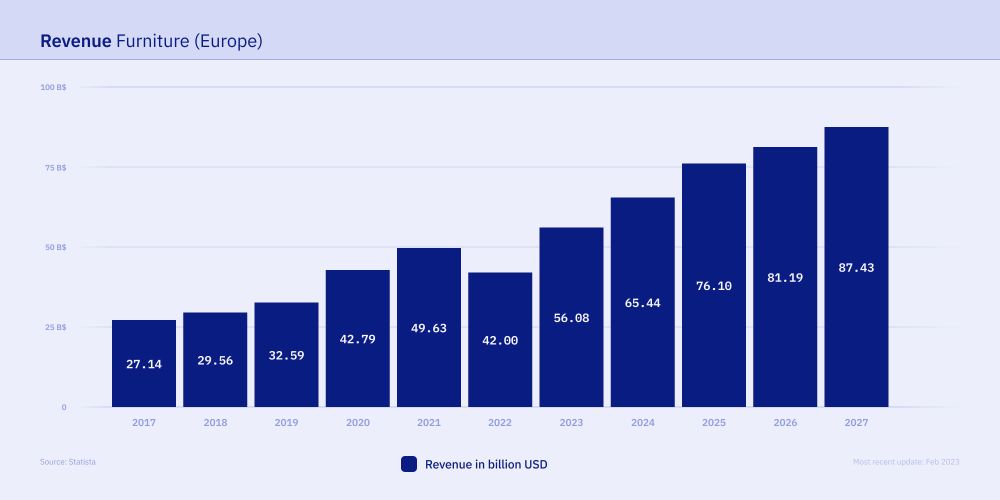 Livim's century-old history
The company is headquartered right in the centre of Germany in Bad Sachsa. It was founded back in 1899 by the Wedler family which has an upholstery workshop.
In 2016 the company decided to go online with Livim.de and chose Magento because of the platforms' great reputation on the market.
The family business now has 120 employees across four locations in Germany and 3 online shops: shop.wesa-einrichtungshaus.de, shop.moeno-einrichtungshaus.de and Livim.de.
In 2020, as COVID gave a big boost to eCommerce across the globe and industry verticals, the company decided it was time to revamp its Livim.de online store.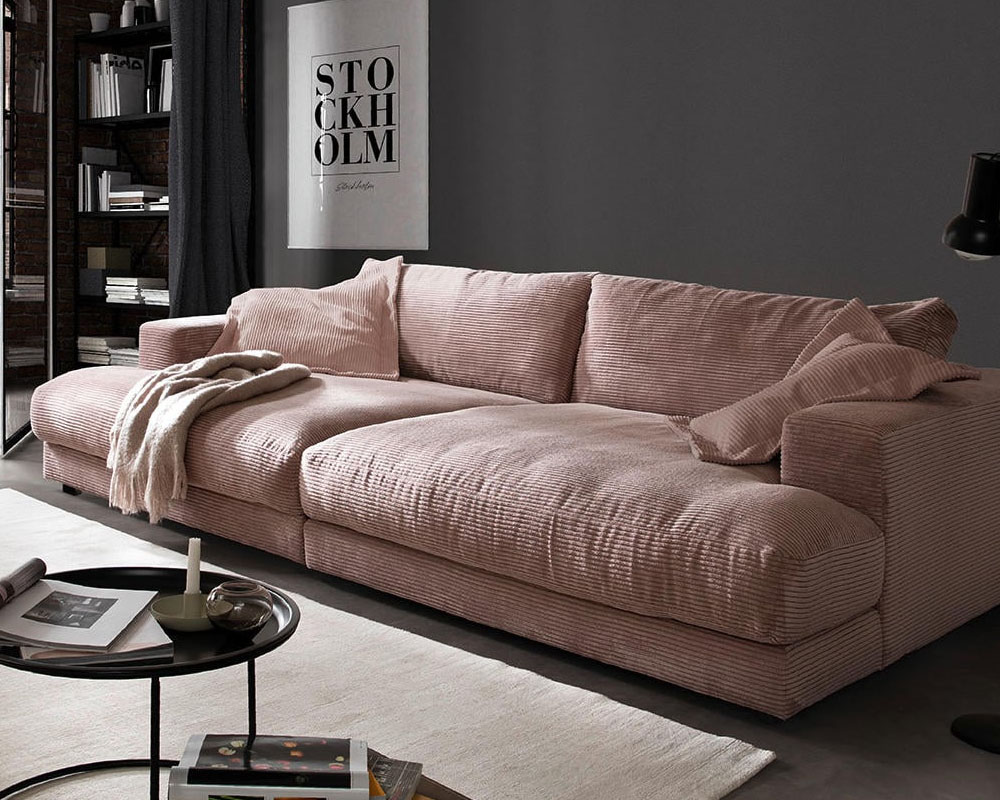 Livim's Marketing strategies
How do they drive traffic to their websites?
SEO is their biggest driver of traffic, second place takes SEA (Adwords) and in third place is Social Media (with Ads).
Instagram account: 2,240 followers. The objective is to inspire customers with nice interior decor images featuring their range of products.
When SEO is one of your top traffic drivers, it makes sense to optimise all the factors that influence your ranking, i.e. how soon you are displayed on Google Search Engine Result Page (SERP). Those factors are wrapped under the Core Web Vitals metrics and they improve drastically when your website performance is better and pages load faster. That's why Hyvä adds so much value.
Livim eCommerce store's challenges
Website look and feel
The design of the shop was not up to standards, both from a branding perspective but also from a conversion perspective. The pages were taking too much time to load, some parts of the website were unstable, and the overall shopper experience wasn't smooth and intuitive as it should.
Furniture configurator
The key specificity of this website is the ability to configure your own and unique piece of furniture. For example, you can pick a sofa design, add more seats, change the legs material, pick a colour and fabric etc…
That bespoke module was built in-house, however, it contained extremely complex logics which made it difficult to maintain and further develop. In addition, third-party code was involved and there were an overwhelming number of dependencies that were not documented.
Technology legacy
The website was on Magento 2 and over the years, the code was developed by different teams, creating technical debt as the various layers added each time created extra complexity.
There were also a high number of Magento extensions used in the back end and one idea was to simplify and remove those that were no longer needed.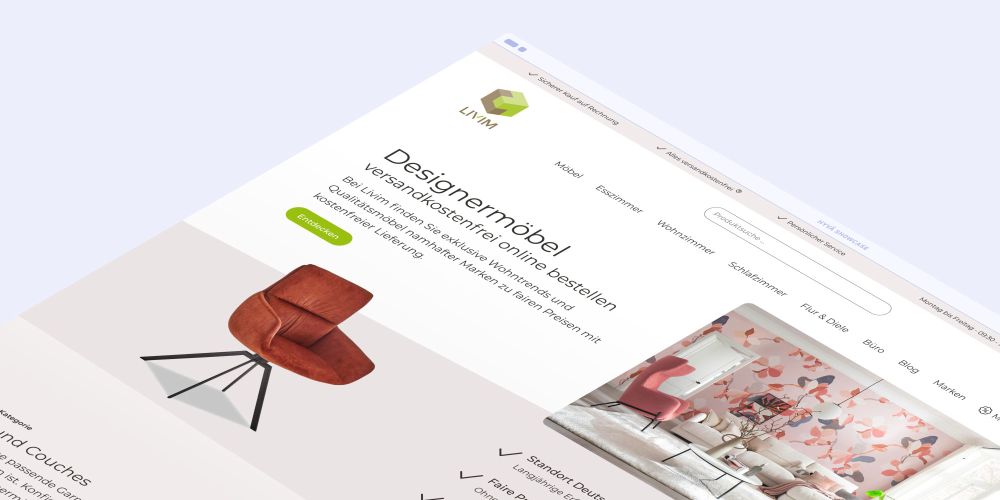 Livim's approach and solution
The German company sought help from an agency. They chose e3n because of their 10+ years of experience with Magento and their targeted consulting approach. e3n specialises in the development of eCommerce platforms built on Magento Open Source and Adobe Commerce. The team of 13 highly skilled experts is known to deliver outstanding shopping experiences. e3n knows the ecosystem very well and can rely on over 15 years of Magento experience to provide the best quality recommendation and implementation.
That's how Hyvä was chosen and used to rebuild the front end the way they envisioned it in a cost-effective and time-efficient way.
Here are a few decisions they made to maximize success, reduce complexity and keep the bill down:
During the implementation, quick results were achieved with regards to standard page areas such as header, footer and category pages thanks to Hyvä.
Deviations from Hyvä standard were only made if it was really necessary for the user experience. In this way, a very good user experience could be created with little effort and therefore low costs.
For the individual page types, Figma mock-ups were created as the basis for the front end and coordinated iteratively by the merchant's team. As a result, the page types could be quickly implemented directly with Hyvä.
The configurator's front end was rewritten in AlpineJS to be compatible with Hyvä. This allowed the team to improve UI as well as remove or refactor old code.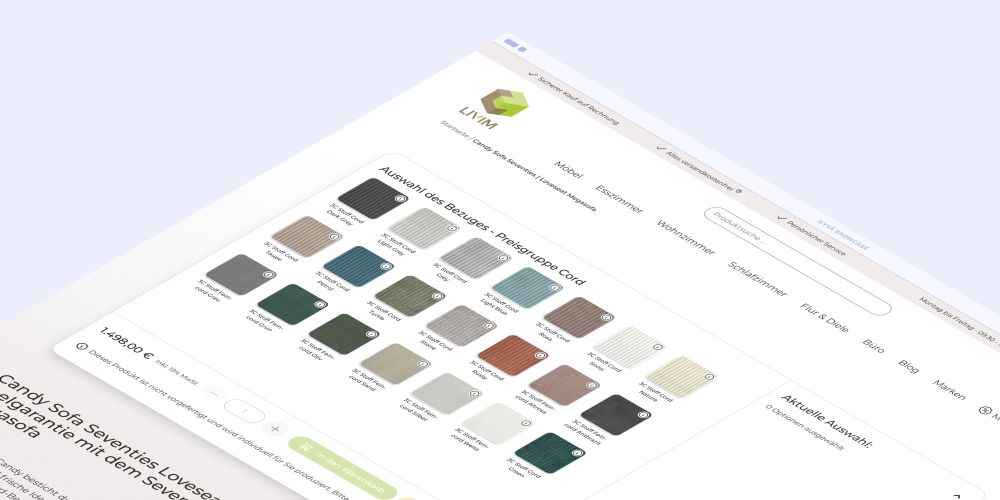 Results driven by the Hyvä implementation
Speed and performance
The high-performance loading of all resources drove excellent page speed scoring, which also had an extremely positive effect on the shop's SEO ranking.
Category Page (November 2022)

Product Page

eCommerce results
eCommerce sales growth before vs after Hyvä + 147% in the same period YoY
+ 46% organic traffic
+54% conversion rate
Consistent user experience
The platform is now running reliably and stably. The end customers get a reliable front end and no longer have to worry about long loading times or errors in the front end. The individual pages and elements have a modern look & feel and enable the intuitive operation of the shop.
Technical debt reduced
By removing various third-party extensions and continuous refactoring in the project, the maintenance and adaptability of the system significantly improved. New features can now be developed faster and future Magento updates can be implemented with significantly less effort.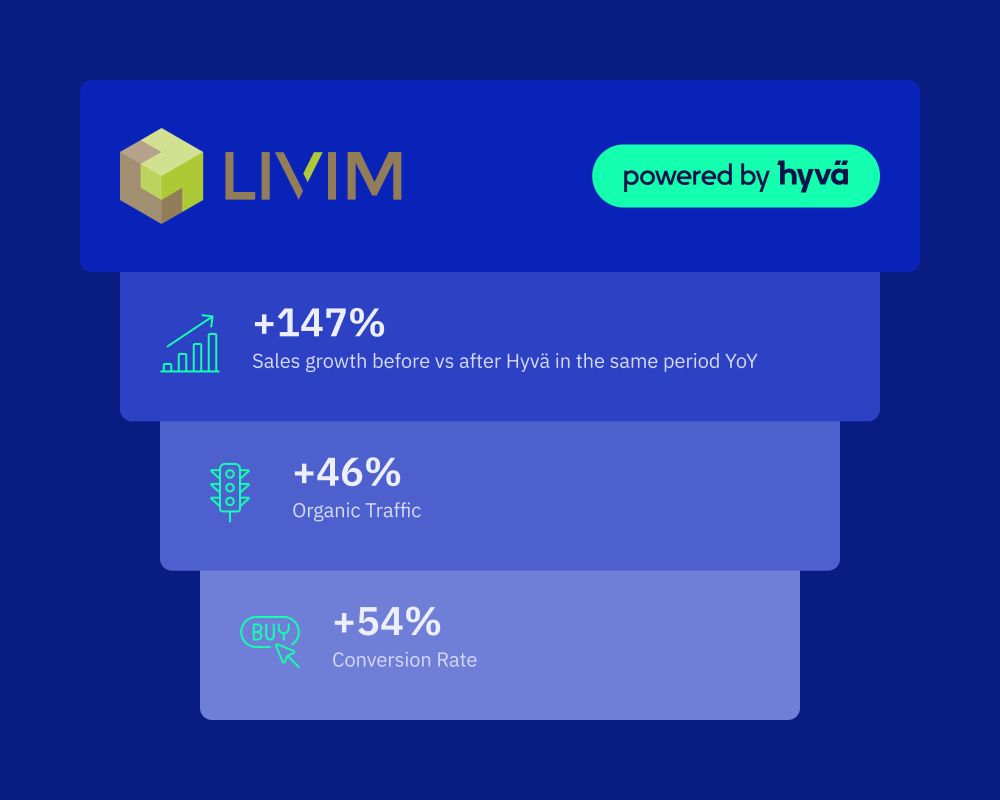 Key takeaways
When you compete on price and choice it might be smarter to invest in findability on Google search rather than branding. As such, companies like Livim rely on SEO so shoppers find exactly what they are looking for. To boost SEO, nothing is more efficient and effective than revamping your Magento store using Hyvä as faster loading pages and superior website performance make a huge impact on Google ranking.
What's more, a fast site creates a superior user experience that decreases the bounce rate and makes it easier for visitors to convert into customers. When you multiply more traffic with better conversion, you get a big boost in revenues.
Investment-wise, the migration job quickly paid off and Livim is now reaping the benefits of a lighter infrastructure and systems that are easier and cheaper to maintain and update in the long run.
It's amazing to create new Applications and Websites with the power of AlpineJS and TailwindCSS. It is pretty easy to create Atomic Design-Components and extend the Magento 2 Page Builder for a great Customer Journey. With Hyvä it is much easier to improve the shop for the audiences.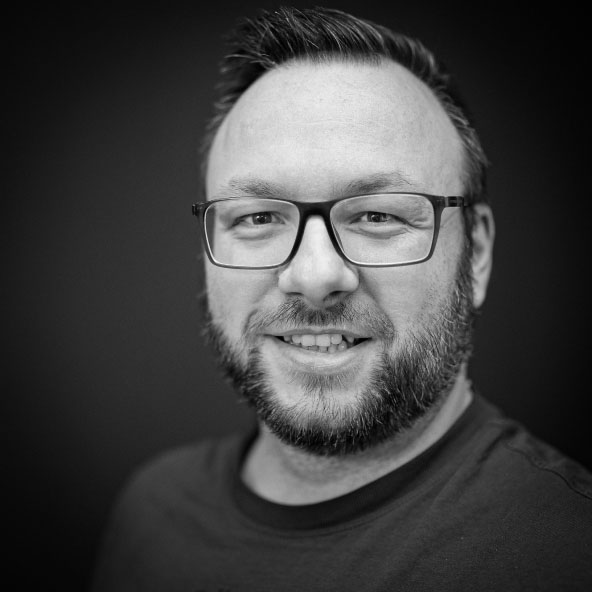 Mathias Elle
Frontend Developer e3n
About e3n
e3n is a German-based eCommerce Agency with experts in eCommerce, digital strategists, and agile project partners. We specialise in Magento Open Source, Adobe Commerce and Hyvä. Our team of 13 experts covers the whole value chain of your eCommerce projects from Consulting to Web development, User Experience and Web-Design all the way through to Operations and Support after launch.