A migration from PWA to Hyvä generated 74% more revenue for Sophie Conran online store
Merchant and Magento 2 project snapshot
Country: United Kingdom
Industry Vertical: Homeware
Business model: B2C, Omnichannel
Hyvä project scope and key results
2800 SKUs
New website launch with Hyvä: November 2022
Page speed up 260% on mobile
Conversion up 15%
Revenue up 74%
Working with Unified on the Hyvä migration was a seamless and stress-free process and the benefits were there to see from day one. It's been an absolute pleasure from beginning to end.
Katie King
Buying and Merchandising Assistant
Sophie Conran: British Designer, Editor, Chef, Entrepreneur and Mother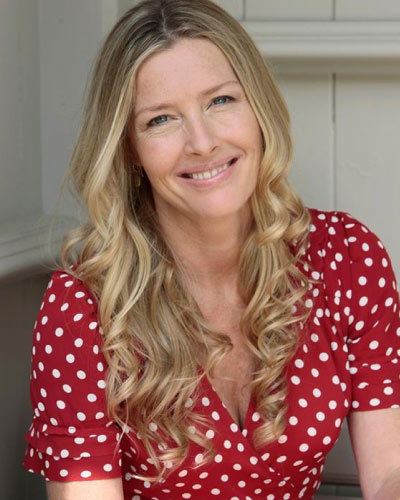 Sophie Conran is the only daughter of designer and restaurateur Sir Terence Conran and food writer Caroline Conran. She is a mum of two.
She has worked as a buyer for both The Conran Shop and The Design Museum shop and also set up her own 'corner shop of the world' Wong Singh Jones in Notting Hill. In 2006, Sophie's hugely successful range with Portmeirion pottery won many prestigious awards. Sophie now works with many amazing companies creating stunning, well-known ranges such as Burgon & Ball, the British Cutlers to the Queen, and Arthur Price.
Sophie also worked in Melbourne, Australia for a couple of years where she designed clothing and homeware brand Country Road and was a contributing writer for The Age newspaper and Belle magazine.
Sophie launched Sophie Conran Pies - a gourmet collection of top quality, handmade pies, which won 4 medals at the Great Taste Awards and let her to publish cookbooks too.
Sophie has been a contributing editor for the magazines Junior, House Beautiful, In Style and Country Living. Sophie regularly writes and develops recipes for her blog, newsletters, catalogues and publications.
Sophie Conran company history and business model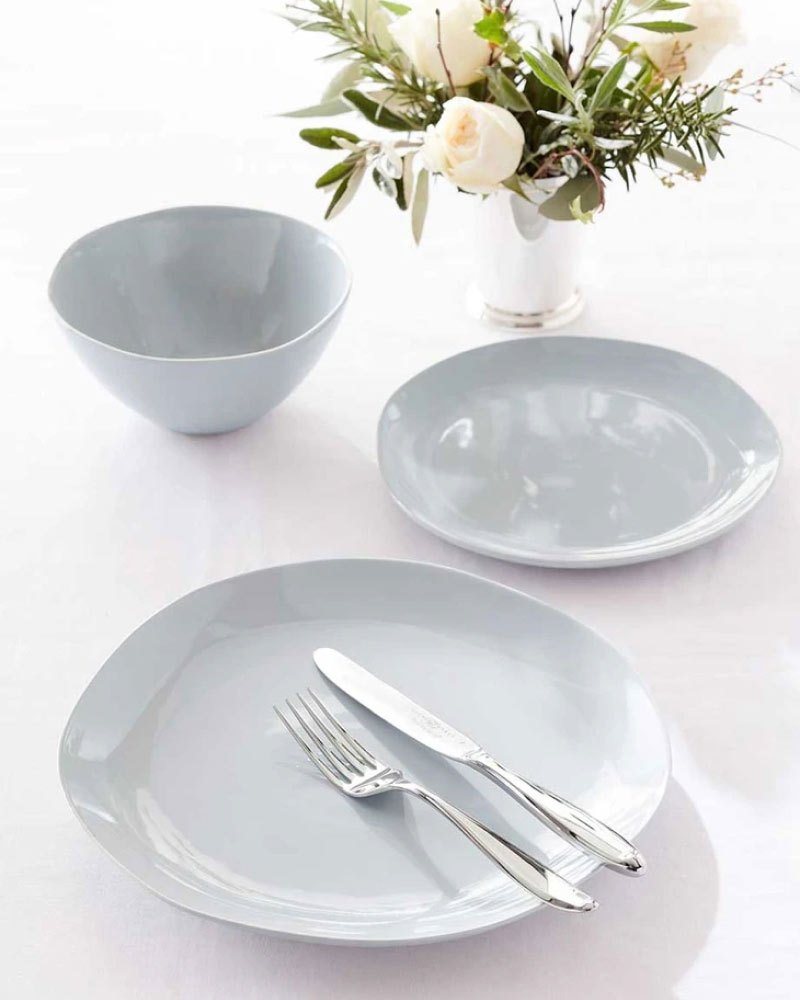 Sophieconran.com was launched in 2013 and is the culmination of all Sophie's passions and previous work. Alongside her license ranges, she develops exclusive collections and curates from a wealth of exceptional suppliers and manufacturers all over the world. Sophieconran.com has become a beloved and inspirational shop for the whole home and garden, with exciting new collections launching seasonally and sent out into the world in four beautiful catalogues each year.
The brand has a loyal following of customers who appreciate its unique approach to home design and who seek out its products for their own homes or as gifts for others.
The business is built on strong partnerships with great manufacturers, who are experts in their field. Sophie brings her fabulous design ideas and immense energy, and together they create special, quality, timeless pieces that delight for decades! Their longest-standing relationship with Portmeirion is now in its 13th year and the award-winning Sophie Conran for Portmeirion range is sold in over 50 countries worldwide.
Today, the Sophie Conran website sells furniture, home decor, soft furnishing (cushions, fabrics), bedding, stoneware and porcelain collections as well as garden and outdoor items.
The Home and Lifestyle market
The Homewares market size was valued at $1,4 trillion in 2020, and is estimated to reach $2 trillion by 2028, registering a CAGR of 5.20% from 2021 to 2028 according to Allied Market Research.
By 2028, the home decoration segment would have climbed from #3 to #2 and online channels will be on par with department stores and account for 25% of total Homewares distribution.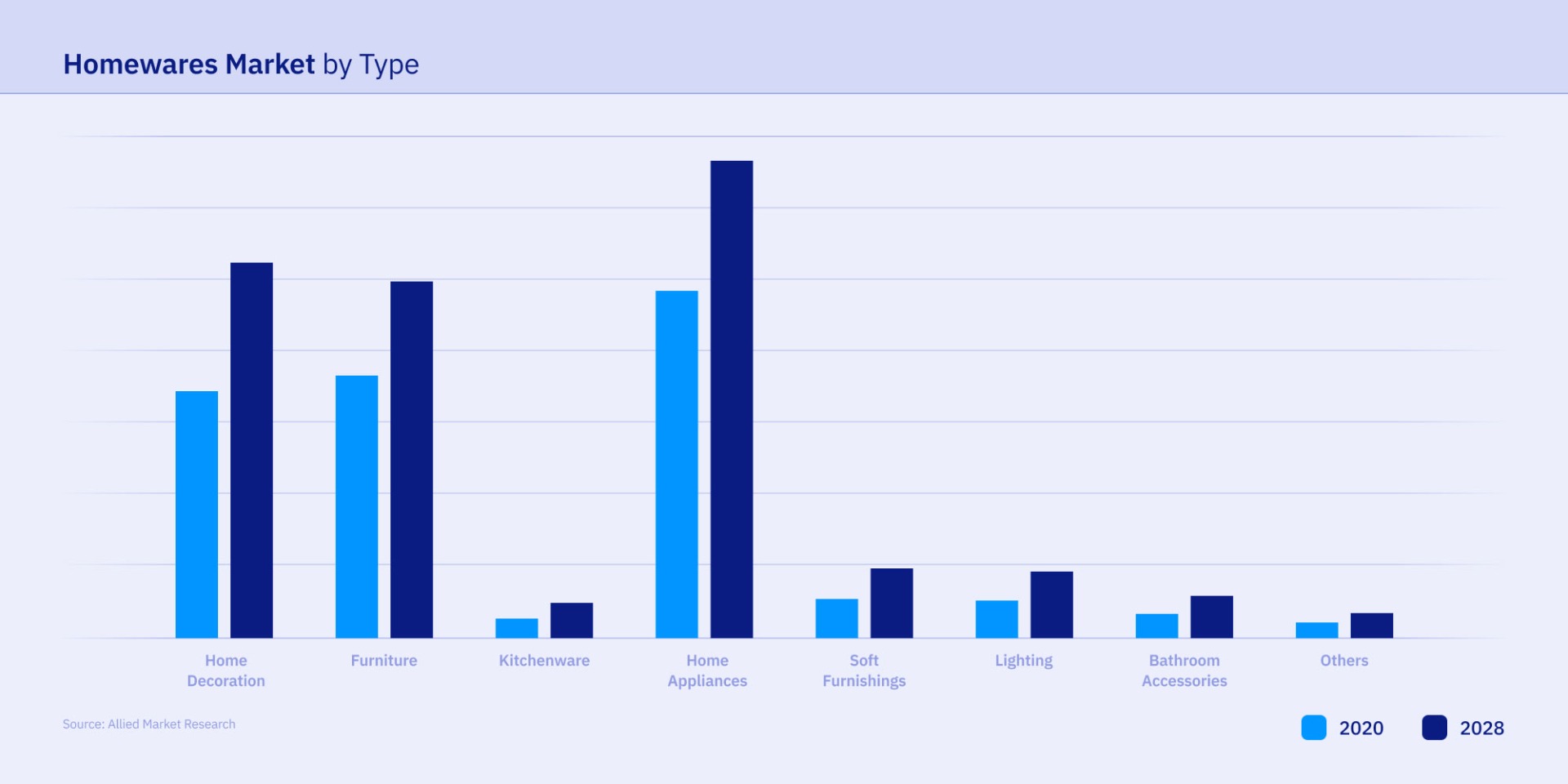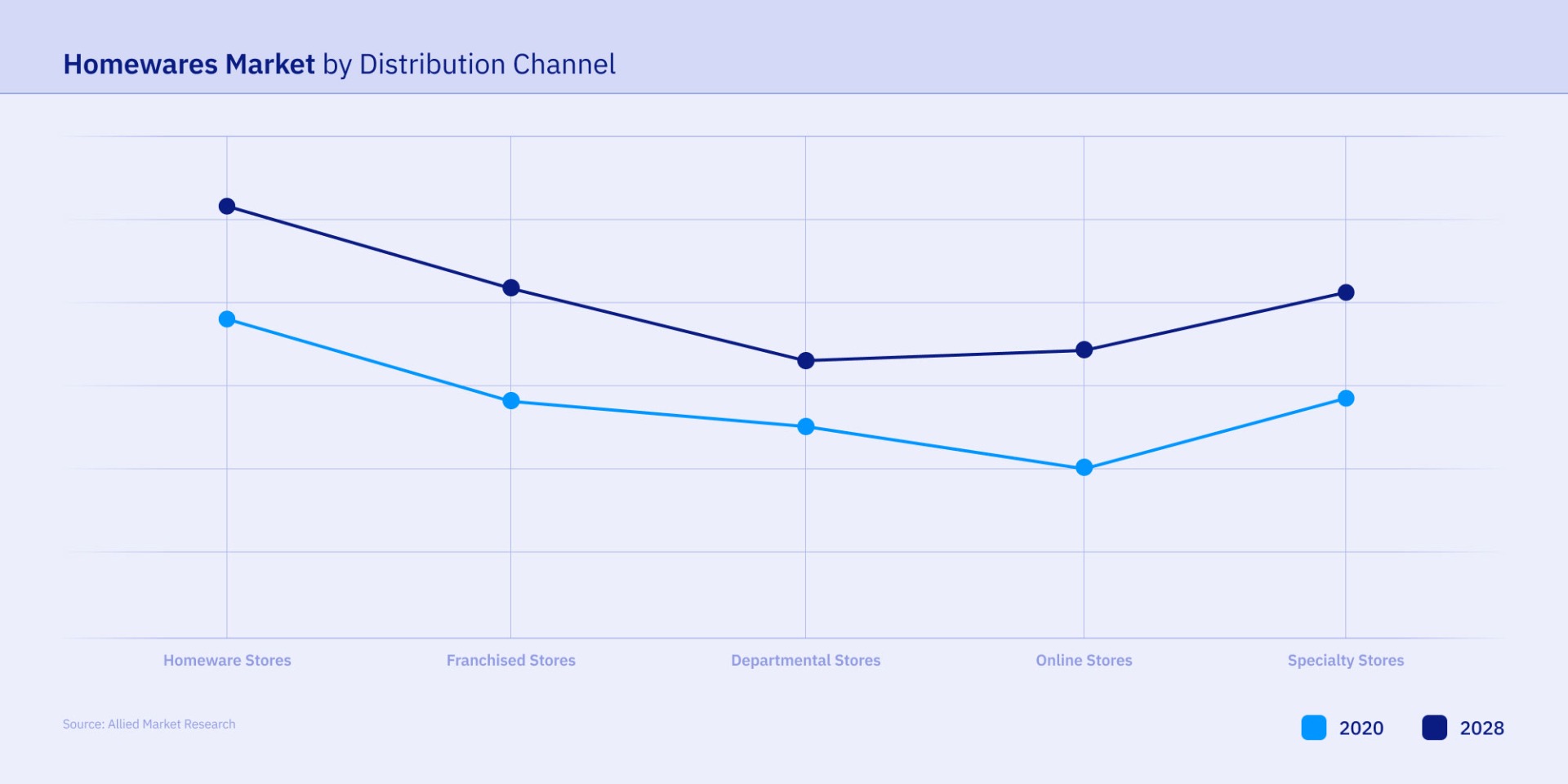 Home and lifestyle market trends are focused on sustainability, simplicity, wellness, technology, versatility, and individuality, with a growing interest in high-quality products that reflect these values. Many consumers are embracing a more minimalist and simplified lifestyle, and are seeking out products that reflect this aesthetic, such as clean lines and neutral colors.
As far as market dynamics are concerned, the rise of technology and multifunctional and modular design may pose a threat to more traditional items.
Sophie Conran online store's challenges
This account was already a long-standing Magento 2 client of Unified.co. They had been using a popular PWA solution for Magento for front-end development for the last two years, but adding features or conducting updates was proving time-consuming and expensive, even for basic tasks.
Staying with the PWA solution was clearly unsustainable. Having two separate systems to support meant that ongoing development tasks were taking longer and costing more than they would by using Magento alone; and when it came to upgrading their Magento version to keep their site secure and compliant, it became quickly apparent to us that the PWA would need to be substantially refactored too.
How Unified.co approached those challenges
By replacing the front end with Hyvä, we've suggested that the client goes from a headless tech stack back to a monolithic tech stack. This is a less common approach, but it meant performance could improve hugely without compromising on developer experience.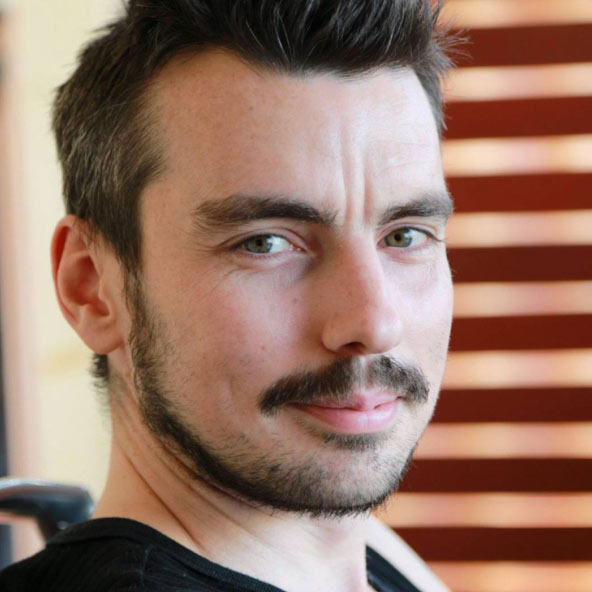 James Collins
Lead Frontend Developer at Unified
This project was our first toe in the water for using Hyvä, as the site was a relatively simple B2C store with few modules it made perfect sense to try Hyvä Themes here. We love the results, both as developers and an agency, the client is very happy with it too.
Our agency was already familiar with Hyva's tech stack from developing their custom-built Shopify Origin theme.
By replacing the front end with Hyvä, we've suggested that the client goes from a headless tech stack back to a monolithic tech stack. This is a less common approach, but it meant performance could improve hugely without compromising on developer experience.
We installed a fresh instance of the Hyvä Theme onto the existing site. We then set up a child of the Hyvä Default Theme and got to work implementing the Sophie Conran branding and functionality to the site.
We needed to swap out some existing third-party modules to use Hyvä compatible versions and had to do some minor refactoring of bespoke modules to ensure they worked with Hyvä.
For their growing business, our client needed a fast, high-functioning site that was easier and more cost-efficient to maintain. Our solution was to migrate them to Hyvä; a high-performing Magento theme that rivals headless and PWA solutions for speed but keeps both front- and back-end in the same family for ease of use and ongoing development efficiency.
We convinced the client that Hyvä was a stable and reliable platform compared to the Headless solution they were currently using. Hyvä updates were much less impactful and often contained feature improvements rather than backwards-incompatible fixes. There was also the safety in knowing that reverting to the monolithic version of Magento was the most common approach.
Technology stack used on this Magento + Hyvä project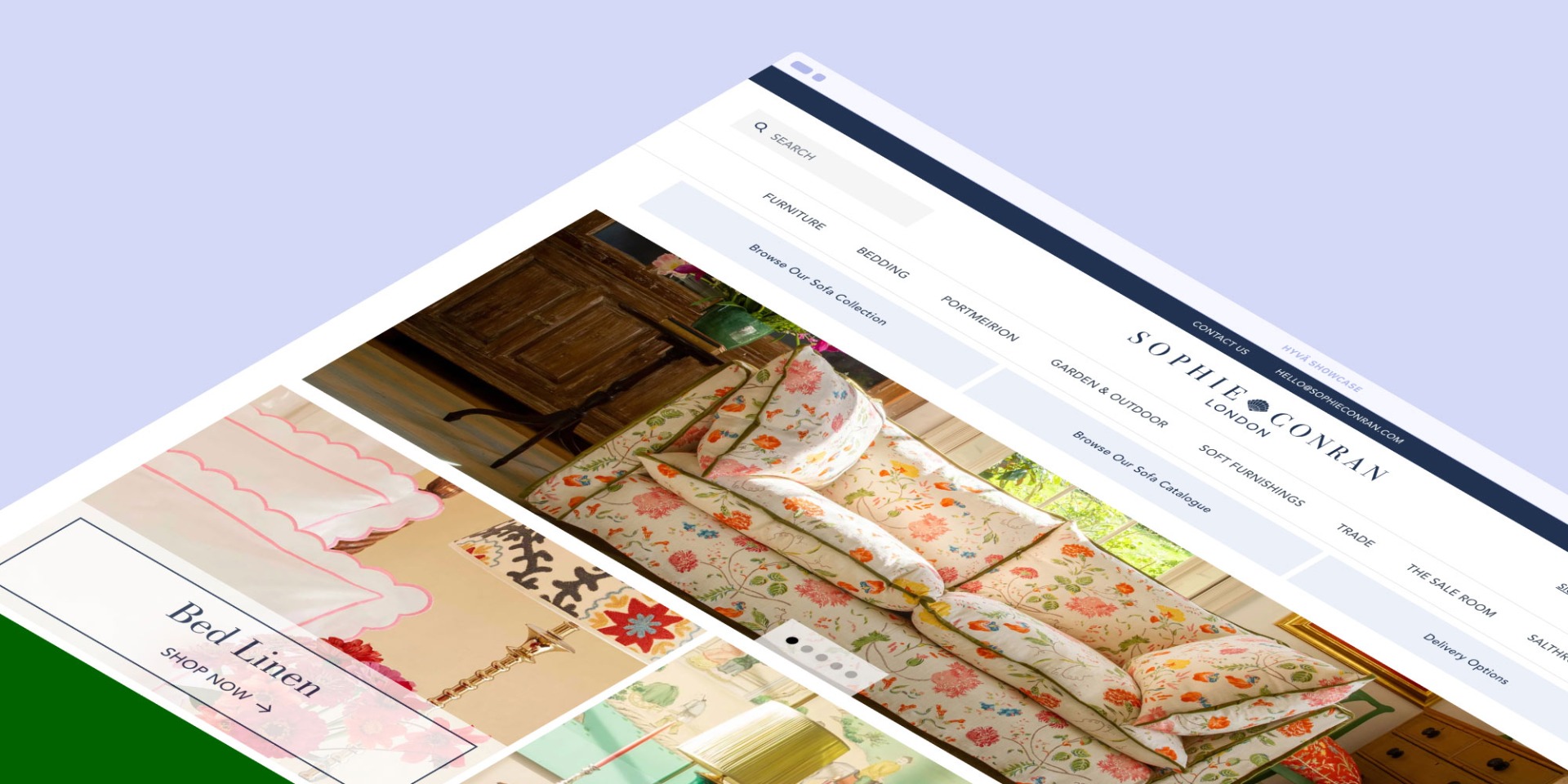 For the CSS and UI elements, we used Tailwind, a CSS framework that's a dream to work with and offers increased performance and project longevity in equal measure. It can also be used to create components at a modular level, meaning they can be reused throughout the project, and even on other projects.
The JavaScript library we used is called Alpine - this powerful front-end library is a bit like jQuery for the modern web, but is small, lightweight and reactive.
The rest of the framework is now made up of all of the best bits of the Magento system - everything that was weighing the site down previously has been stripped out. Including LESS, RequireJS, Knockout and UIComponents. Finally, we added a few quality-of-life improvements, like add to basket from the PLP, and made some bug fixes.
We are looking to build more projects using Hyva in the future, including integrating Storyblok CMS and heavy B2B functionality in a future project, watch this space!
Results from the migration from PWA to Hyvä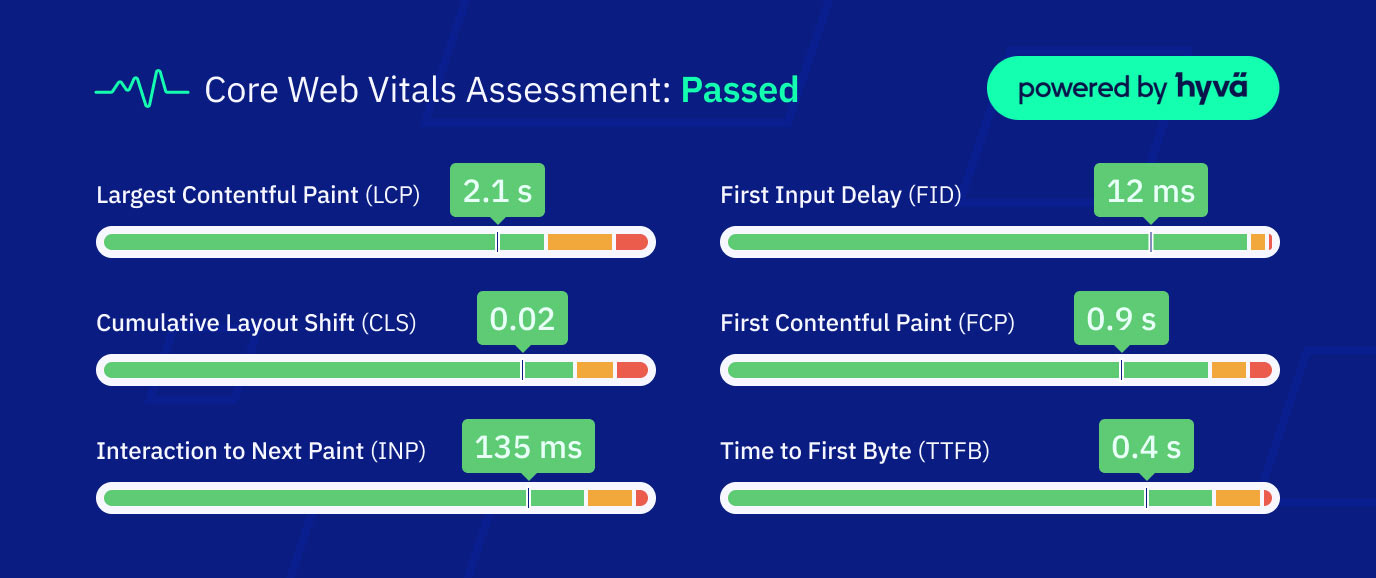 The performance gains were clear to see from launch day, the Lighthouse scores improved immediately and the site really felt blazing fast.
Page speed up 260% on mobile
Conversion up 15%
Revenue up 74%
Other metrics:

Reduced Speed Index Score 71%
Reduced Time to Interaction 68%
Reduced Time to LCP 65%
There were numerous bugs in the old PWA that were resolved as part of this new build which the client was happy to see resolved.
The client was now able to properly use the Page Builder shipped with Magento. In the previous application, the majority of the CMS content had to be hard-coded.
For developers, the site was much easier to work with, Tailwind and Alpine are fantastic libraries and no longer needing to work with Knockout/Require/Less etc was a joy. The PWA application had to be rebuilt after each change which could take up to 2-3 minutes each time, quite a time sink when working locally.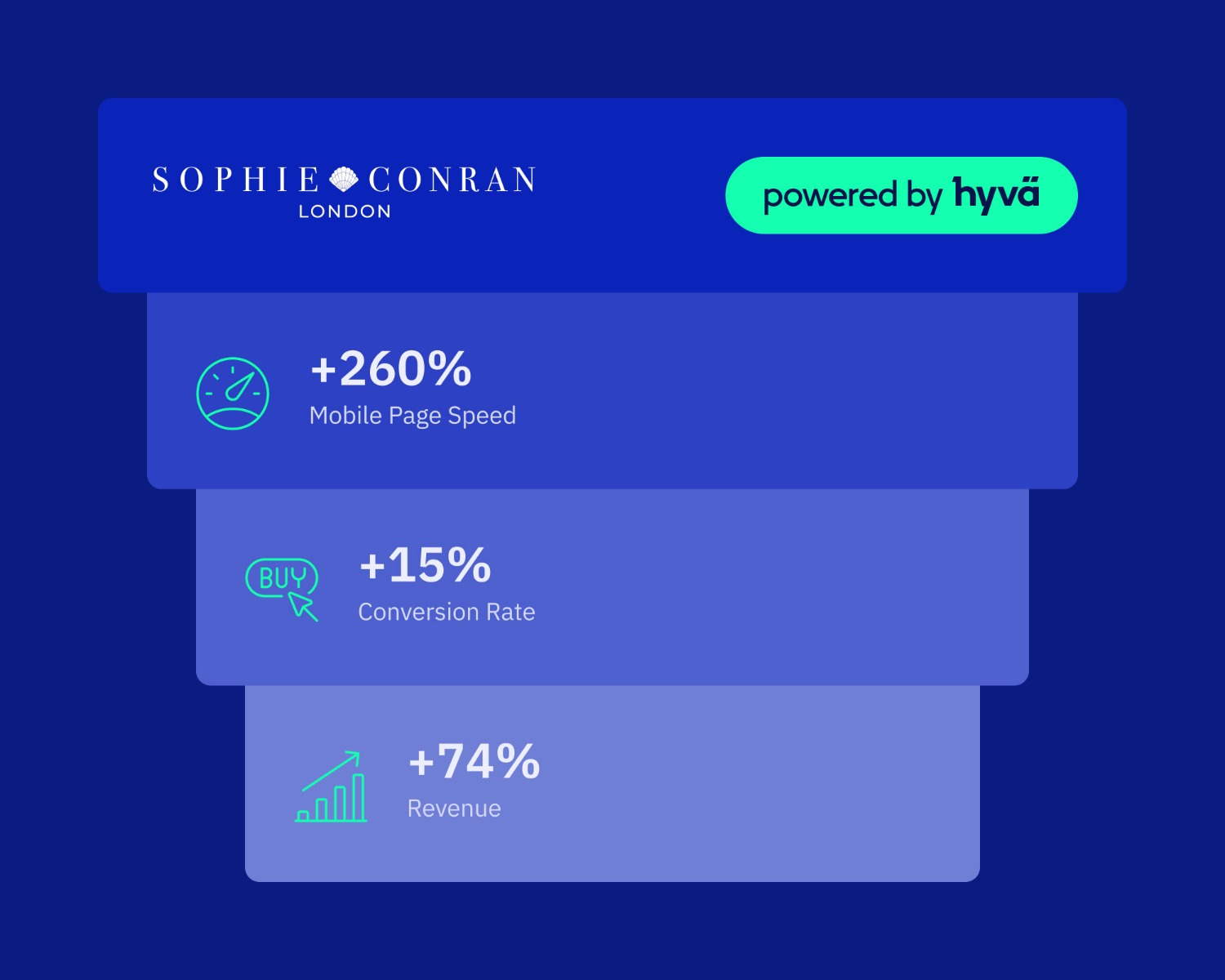 James' tips to merchants
Hyvä is a stable and performant solution for Adobe Commerce. While certain sites may require a headless solution, for the majority of merchants, the monolith is ideal. There is a community of passionate developers behind Hyvä and hundreds of sites already built using the platform. I would highly recommend it for merchants and developers alike.
We are an eCommerce agency based in London. As experts in Magento (Adobe Commerce), Shopify Plus and BigCommerce, brands come to us looking for bold strategies that put growth first. At Unified, quality development, beautiful design and forward-thinking go hand-in-hand.
We form a team and partnership with clients from day one; always thinking about year 10, and have unrivalled ongoing long-term 24x7 support.
At the tail end of 2022, we combined two agencies, LogicSpot and Diligent Commerce to unify as one team, with one unified goal and with all the tools in-house to grow ambitious brands forward.