Inclusive Online Shopping Experience: How Accessibility also makes business sense
About our Guest: Anna Karoń
The modern frontend tech stack in Hyvä elevates the (FE) developer experience to a higher level. Customizations and the development of new features are fast and clear. The default performance optimization enables developers to focus on coding and makes the process enjoyable.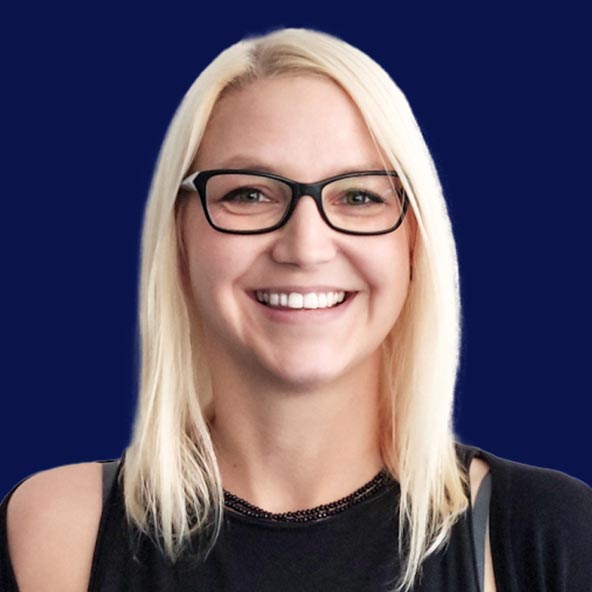 Anna Karoń
Accessibility Specialist & Senior Frontend Developer
Anna Karoń is an Accessibility Expert at Snowdog agency. Her work experience combines a rare and coveted mix of business acumen and coding expertise. Anna's passion for front-end development began long before 2015 when she officially joined Snowdog.
Since 2018 Anna has been a passionate advocate for Accessibility and we are delighted to partner with her and Snowdog so that Hyvä Themes incorporate all the best practices that will benefit end users as well as our customers: Magento agencies and merchants.
Through a series of three articles, we will draw your attention on Accessibility including why it makes business sense in addition to doing good, practical tips for an accessible website and deep dive into Accessibility with Hyvä.
Here is the first article of the series.
Inclusive Online Shopping Experience: How Accessibility also makes business sense
For us, at Snowdog and Hyvä, access to information and communications technologies, including the Web, is a basic human right as recognized by the United Nation Convention on the Rights of Persons with Disabilities. Accessibility also supports social inclusion for people with disabilities as well as others, such as older people, people in rural areas, and people in developing countries with slow Internet.
eCommerce is a good part of what people do online and usually account for 10 to 20% of total retail based on countries and industry verticals. The convenience of ordering products from the comfort of our own homes has become an everyday occurrence, and we often take it for granted. But what if someone were to take it away from us? Overnight, imagine losing access to all your favourite websites and having to learn to use the internet all over again. This is the reality for people with disabilities.
They must learn to adapt to a new way of life, and on top of that, everything that was once easily accessible via the Internet is now limited due to the lack of accessibility.
It's not just about our values and doing good. In this article, we want to show that it's a fantastic demographic market to tap into and that addressing accessibility proved to drive better traffic through better SEO ranking, reduce bounce rate and increase overall online sales.
What is Accessibility exactly?
Web accessibility is the practice of designing and developing websites and digital content that can be accessed by all users, regardless of their abilities. It is an essential component of creating an inclusive digital environment that enables everyone to participate fully in society.
According to the World Health Organization (WHO), approximately 16% of the world's population - 1.3 billion people, have some form of disability. It's 1 in 6 people worldwide and 80% of them have a hidden impairment.
Individuals with visual impairments may have difficulty browsing products or reading descriptions if the website does not have proper contrast between text and background or alternative text descriptions for images. They cannot complete registration, login and checkout process when it's not implemented properly or choose product option (swatches).
Hearing-impaired individuals may struggle to access audio or video content on an eCommerce site without captions or transcripts.
Mobility-impaired individuals may face challenges navigating the site without keyboard support and focus management.
Additionally, individuals with cognitive impairments may find it challenging to understand complex layouts, product descriptions or confusing navigation on an eCommerce site. By designing eCommerce sites that are accessible to all, businesses can help ensure that everyone can access their products and services.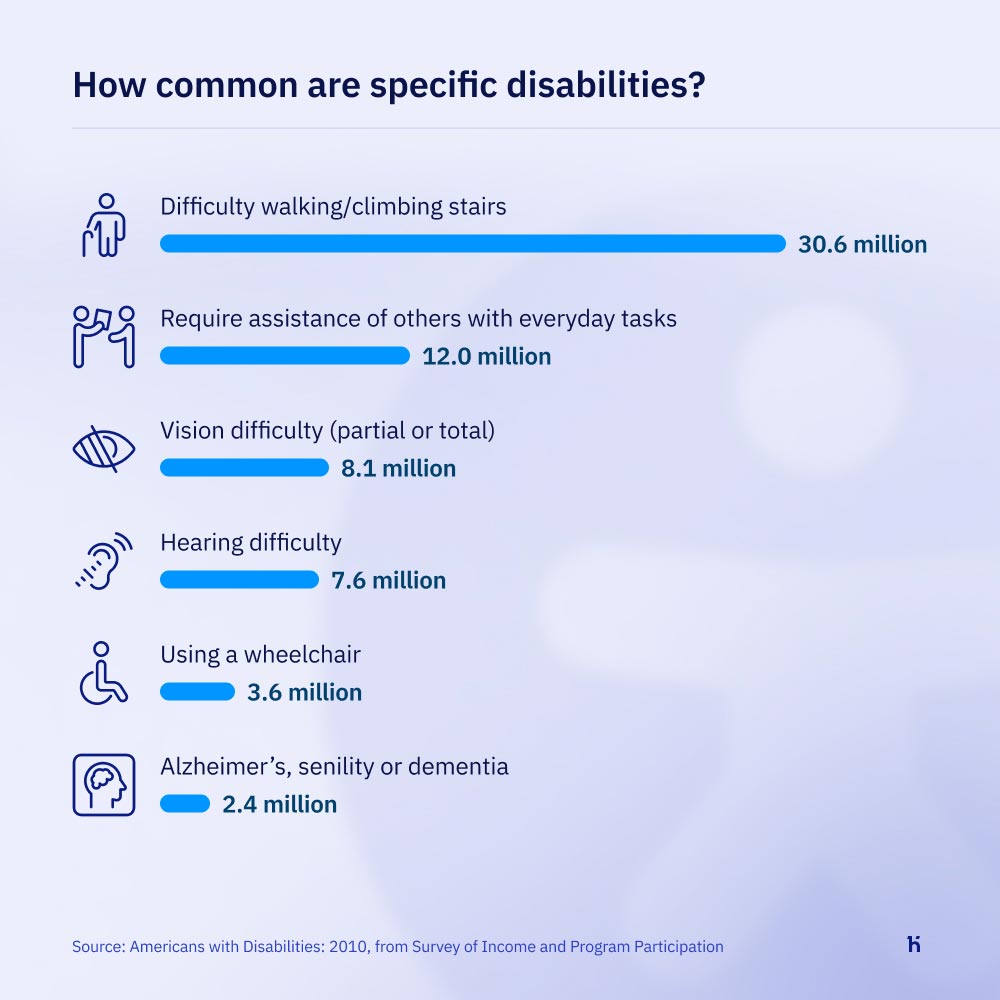 The prevalence of disability increases with age, making it likely that we will encounter vision, hearing, or mobility problems as we get older. This may pose a challenge when it comes to using a computer or phone in the same way as we do now.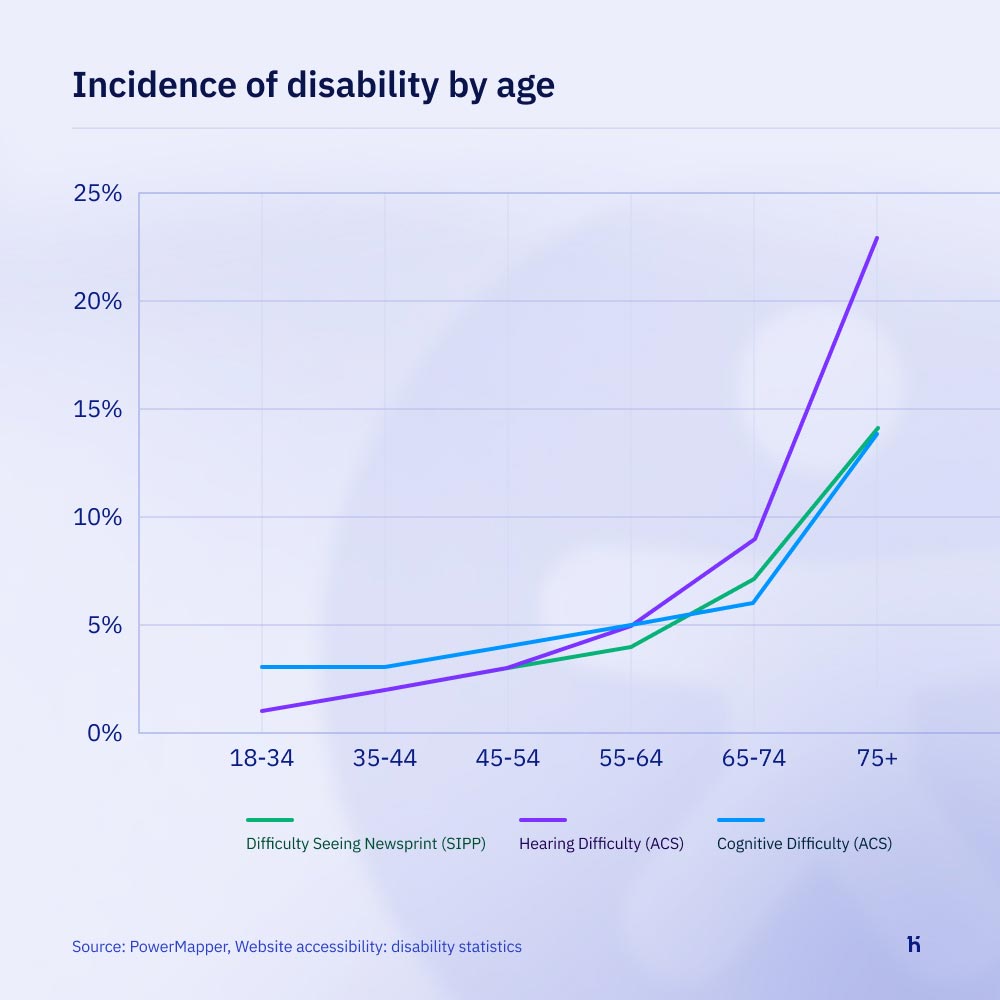 A chart showing Incidence of disability by age and it presents how 3 different impairments: Difficulty Seeing Newsprint (SIPP), Hearing Difficulty (ACS) and Cognitive Difficulty (ACS). Difficulty Seeing growth: 2% in 18-34 age group, 4% in 55-64, 7% in 65-74 and goes up to 14% in the 75+ age group. Hearing Difficulty growth: from 2% in 18-34 age group to 9% in 65-74 and to about 24% in 75+ age group. Cognitive Difficulty growth: from about 4% in 18-34 then stays at a similar level up to the age 65-74 where it rises and gets up to 14% in the 75+ age group.
Increase your total addressable market with an accessible website
According to a 2019 study, it's estimated that companies without accessible sites are losing $6.9 billion a year to competitors whose sites are accessible.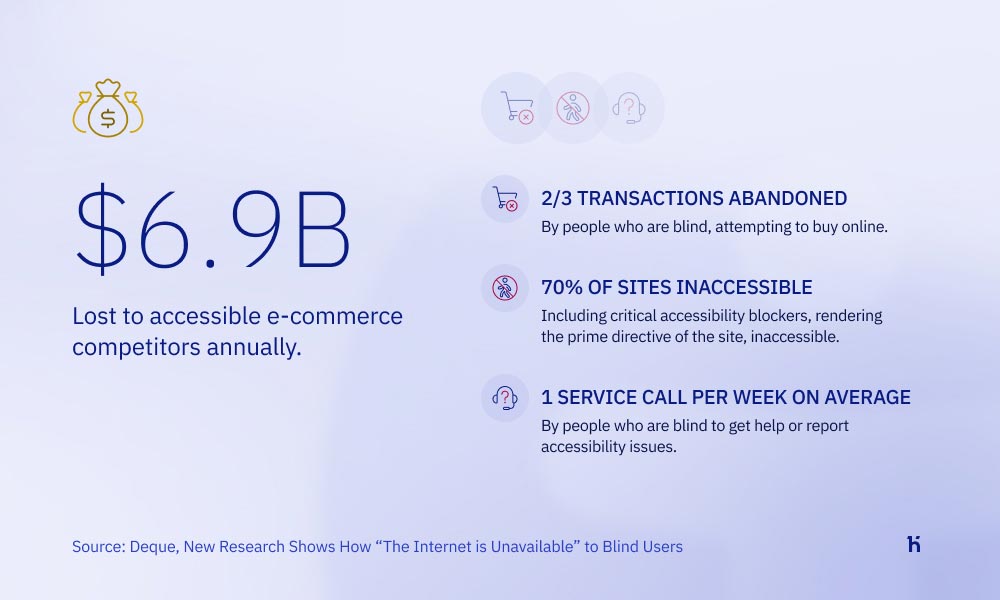 Data by Deque: New Research shows how "The Internet is Unavailable to Blind Users: $6.9B - Lost to accessible e-commerce competitors annually. 2/3 Transactions abandoned - by people who are blind, attempting to buy online. 70% of sites inaccessible. Including critical accessibility blockers, rendering the prime directive of the site, inaccessible; 1 Service Call per week on average - by people who are blind to get help or report accessibility issues."
In a report by the Pew Research Center, around 73% of adults aged 65 and older in the United States use the internet. This represents a significant increase from previous years, as older adults have become increasingly connected to the digital world.
The report also found that older adults are more likely to use the internet for activities such as email, online shopping, and social media, as well as for accessing health information and news.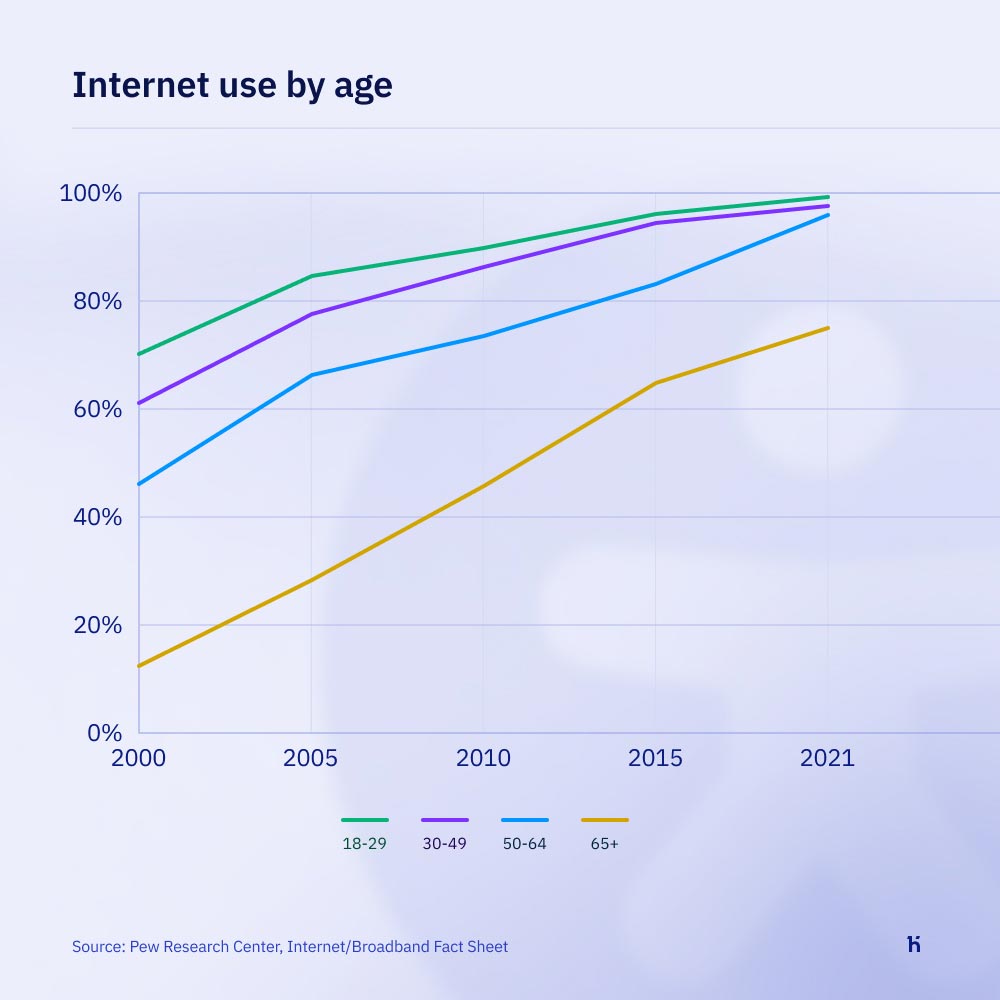 Chart of Internet use by age: % of U.S. adults who say they use the internet, by age. Users in the 18-29 age group grow from 70% in 2000 to about 95% in 2021; in the 30-49 age group grow from 60% in 2000 to about 94% in 2021; in the 50-64 age group grow from 45% in 2000 to 90% in 2021 and in the 65+ age group grow from about 15% in 2000 to 60% in 2021. There's a note below: Respodents who did not give an answer are not shown. Source: Surveys of U.S. adults conducted 2000-2021. Data for each year based on a pooled analysis of all surveys conducted during that year.
Ensuring that websites and digital platforms are accessible to older adults is becoming increasingly important for businesses and organizations looking to connect with this demographic - to increase revenue, but also - to secure their future as an elders.
Inclusivity & diversity - Accessibility is about creating products and services that are usable by everyone, regardless of their abilities. By designing for accessibility, you can make sure that everyone feels included and valued, regardless of their circumstances.
A study by the Return on Disability Group found that companies that prioritise accessibility can increase their customer base by up to 15%. (Source: Return on Disability Group)
By making your store and services accessible, you can reach a wider audience, including people with disabilities, the elderly, and non-native speakers. Friends and families of users with disabilities often look at accessibility features.
What's more, not only you can tap into a bigger total addressable market, but Accessibility will hep you grab a bigger share and grow faster than your competitors!
Accelerate your growth through more traffic, better Conversion and loyalty
Improved SEO and increased traffic
Accessibility can improve SEO. If you've been using Hyvä, you would know how search engines like Google prioritise websites that are easy to use and provide a good user experience. By improving accessibility, you make your store well-structured and more understandable for robots, so you can potentially rank higher in search results and attract more organic traffic. (Source: W3C Web Accessibility Initiative)
Better user experience leads to improved bounce rate and conversion
Did you know that 71% of users with access needs will leave a website that is not accessible? (Source: Click-Away Pound Survey)
Accessibility can improve the user experience for all users. For example, captions and transcripts can help people who are in a noisy environment or have poor internet connection, and keyboard navigation can make it easier to use a website or application without a mouse.
Future-proofing and maximizing life time value
Designing for accessibility can future-proof your products and services. As people age or face temporary or situational impairments, they may need accessible features to use your store and services. By designing for accessibility, you can ensure that your products and services remain usable and relevant over time.
The Curb Cut Effect
Introducing accessibility to an online store can be seen as an example of the "curb-cut effect". The name comes from when curb cuts were first introduced to make sidewalks more accessible for people with disabilities, it was found that this also made it easier for people with strollers, bikes, and other wheeled devices to navigate the sidewalks.
Similarly, making online stores accessible to people with disabilities can also benefit society as a whole by impacting other users, such as those with slower internet connections or older devices, who may have difficulty accessing certain features of the site.
In the same spirit we could say that Hyvä curb cut effect lies in its ability to reduce energy consumption since it makes website pages lighter to load and reduces merchants servers needs by 25% in some cases.
Regulatory risks: Avoiding legal fines and lawsuits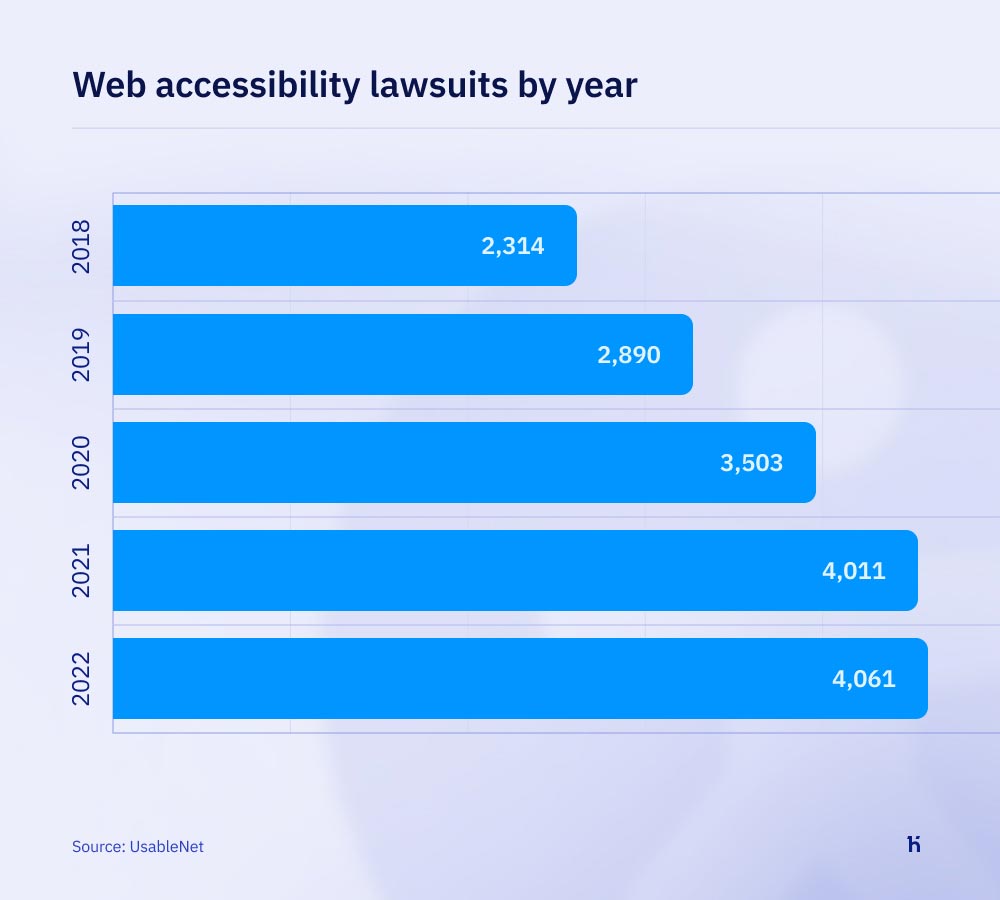 A chart of Web accessibility lawsuits by year. In 2018 there were 2314 lawsuits. In 2019 - 2890. 2020 - 3503. 2021 - 4011 lawsuits. 2022 - 4061. The numbers grew. Data courtesy of UsableNet
In many countries, there are legal requirements for businesses to provide accessible products and services.
The ADA in the USA
For example, in the United States the Americans with Disabilities Act (ADA) requires business to provide equal access to goods and services online.
Accessibility lawsuits and litigation increased by as much as 181% in the US from 2017 to 2018 (3playmedia.com).
Although media websites like Netflix or Beyonce have made the news when it comes to Accessibility Lawsuits, eCommerce represents three quarter according to Usablenet's 2021 Mid Year Web Accessibility Lawsuit Report.
Please note that the lawsuits are not just targeting larger merchants. According to Usablenet's report, the number of cases against companies below $50M doubled between H1 2020 and H1 2021 when it stayed stable for companies making more than $50M per year.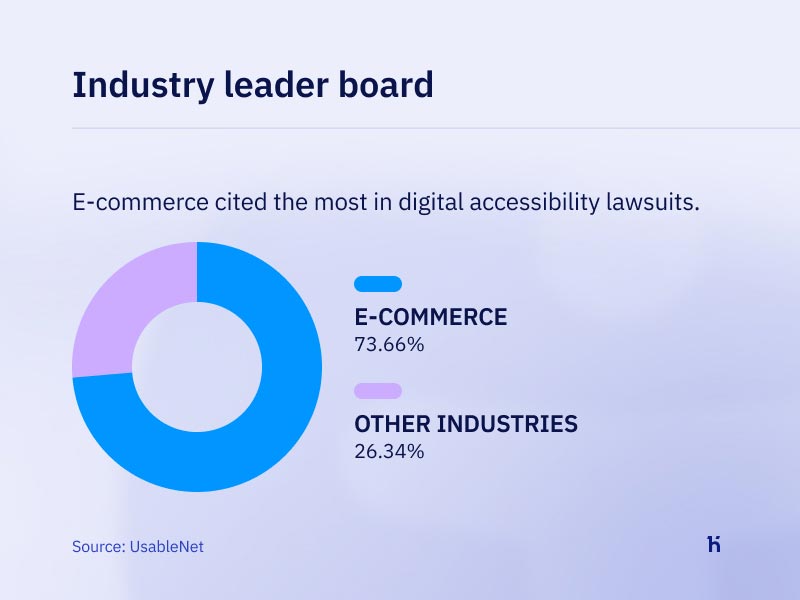 Chart of Industry Leader Board - e-Commerce cited the most in digital accessibility lawsuits. Banking/Financial moves back to the top 5. e-Commerce is 73.66% of the chart. Other industries - 26.34%
The EAA in the European Union
The same will happen in Europe - The European Accessibility Act (EAA) is a law aimed at improving the accessibility of products and services for people with disabilities. It was passed in 2019 and will come into effect in 2025.
The bill mainly covers sectors like banking , telecommunication, consumer electronics and software and obviously eCommerce.
Businesses will benefit from:
common rules on accessibility in the EU leading to costs reduction
easier cross-border trading
more market opportunities for their accessible products and services
Persons with disabilities and elderly people will benefit from:
more accessible products and services in the market
accessible products and services at more competitive prices
fewer barriers when accessing transport, education and the open labour market
more jobs available where accessibility expertise is needed
(Source: European Commision).
By designing for accessibility, you can ensure that you comply with these requirements and avoid legal issues.
United Kingdom: The Equality Act and The Public Sector Bodies' regulations
Given the high number of our Hyvä customers based in the UK, that no longers follow EU rules, we delved into that market's regulatory position towards Accessibility. We found that two laws: The Equality Act (2010) and The Public Sector Bodies' regulations (2018) provide guidance on the matter.
The regulations do not specifically mention the Web Content Accessibility Guidelines (WCAG) 2.1. However, if your online content meets WCAG 2.1 at the A and AA standard you will be aligned to what the accessibility legislation states you need to do.
Summary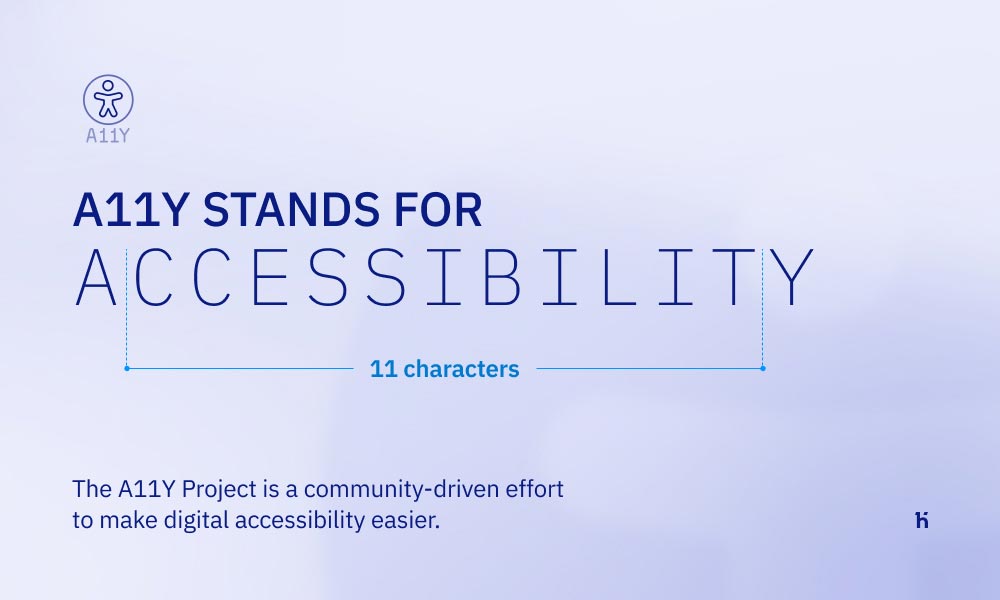 It is important to remember that accessibility is a human right and that creating barriers to accessibility can have significant negative impacts on individuals with disabilities. As such, designing accessible eCommerce sites is crucial not only for creating a more equitable and inclusive society, but also for ensuring that all individuals, regardless of ability, can fully participate in the digital economy.
Icing on the cake, by doing the right thing, you get ahead of the curve because your values will show in your brand, you will get more visitors due to better SEO and reduced bounce rate and more sales altogether thanks to your superior user experience.
It's a no brainer.
Stay tuned for the next article sharing more practical tips on how you can improve your website's accessibility.
Resources:
What is W3C?
What is a11y?
What is the A11Y Project?
What is Web Accessibility?
What are Web Content Accessibility Guidelines (WCAG) 2.1
Learl more about ADA
Learn more about EAA